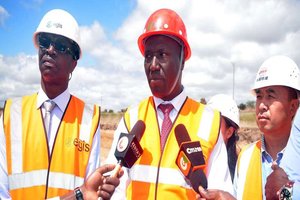 Posted on :Monday , 11th September 2017
Kenya's first high-speed expressway connecting the country's two largest cities will take six years to finish, the Kenya National Highways Authority (KeNHA) has said.
According to the State agency, design and construction of the 473-kilometre Mombasa-Nairobi road is set to begin after last week's signing of a financing deal with US-based firm Bechtel International Inc.
"The project will be supported with financing from Export Credit Agencies (ECAs) in the United States of America. The signing of this agreement will be followed by mobilising of funds from the ECAs for the construction of the expressway,"
KeNHA director-general Eng. Peter Mundinia in a statement.
Once complete, the Sh230 billion road will be among key highways motorists are expected to pay a toll charge for in order to help recoup construction costs and support maintenance.
Expressways, a common infrastructural feature in developed countries, are designed for high speed traffic averaging speeds of about 120 kilometres per hour.
Slash travel time
The Mombasa-Nairobi highway expansion project is expected to help drastically cut travel time between the two cities from over 6 hours to about four hours.
KeNHA says it will have four lanes, with a provision for future increase to six lanes and 19 interchanges with toll stations.
The roads agency projects that the expressway will be completed in ten sections over the next six years, with design and construction being undertaken concurrently.
The first section from Nairobi to the junction with Namanga road near Kitengela will have an interchange near Konza City and a spur road to Kyumvi (Machakos Turnoff) on Mombasa Road.
This section is expected to be commissioned in October 2019.
The agency also said that Bechtel will employ over 4,000 people and provide training and capacity building as part of the project.
Regional trade
The road is crucial for East Africa's trade as it links the Mombasa port to important landlocked markets.
"The highway will serve as a central part of Kenya's national transport system, helping to promote trade and development in Kenya and into landlocked Uganda, Rwanda and DRC (Democratic Republic of Congo)," said Mr Mundinia.
The project will also include development of a master plan for three Special Economic Zones (SEZs) along the highway aimed at developing business in coordination with the new standard gauge railway.
The Kenya Railways is currently operating the Madaraka Express passenger train in a four and half hour journey between Mombasa and Nairobi, which has become increasingly among travellers.