Posted on :Saturday , 2nd December 2017
Kenya Power has plans to connect small and medium enterprises to cheap power. The new power tariff, which large manufacturers have started enjoying, will reduce the cost of power by half when producing during off-peak hours.
The power retailer is expected to install smart meters on the premises of its SME customers, which will enable them to take advanta. . .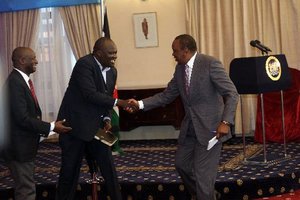 Posted on :Friday , 1st December 2017
Later this month, Kenya's ministry of energy and petroleum will hold a two-day forum in Nairobi to discuss investment opportunities in the energy sector across the East African region.
The meeting which will be held from the 29th to 30th will be organized by Future Energy East Africa Conference and Exhibition will be attended by investors, policymakers, . . .
Posted on :Thursday , 23rd November 2017
Next month Kenya will cut tariffs for power by up to a third for manufacturers and large businesses that shift their operations to late night hours.
The Energy Regulatory Commission (ERC) said on December 1 discounted tariffs will be offered for industrial and commercial power users who operate from 11 pm to 5 am, a window within which demand is low.
Please Select an Option
Exhibiting

Conference

Visiting

Information