Metal Samples, the company from USA exhibited their products and services at oil and gas kenya 2017
Posted on :Wednesday , 25th October 2017
Representatives of Metal Samples were seen explaining their products and services to curious visitors at Oil and Gas Kenya 2017. Metal Samples specializes in manufacturing products for corrosion monitoring and materials evaluation. They have supplied products and services to members of nuclear, medical, aerospace, chemical processing, oil & gas, water treating, and petroleum industries around the world.
. . .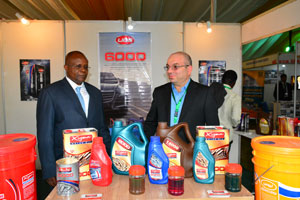 Xigma Motor Oil have exhibited their wide range of motor oil at Oil and gas kenya 2017
Posted on :Wednesday , 25th October 2017
Xigma Motor Oil was established in 2010 since then have consistently produced quality products. They had exhibited their high-quality motor oil at Oil and Gas Kenya 2017. They are very well known for their high quality, environmentally friendly raw materials that they use in their products.
. . .