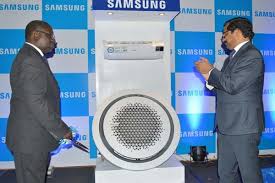 Posted on :Tuesday , 14th March 2017
Dubai, UAE – Expogroup is delighted to announce that Samsung Electronics East Africa has signed up as a sponsor for BUILDEXPO Africa 2017, the 20th edition of East Africa's largest building and construction show.
The events will take place at the Kenyatta International Conference Centre (KICC) in Nairobi, Kenya from the 20th to 22nd April, 2017 and at the Mlimani City Conference Centre (MCCC) in Dar es Salaam, Tanzania from the 10th to 12th August, 2017.
Samsung will be showcasing their range of system air conditioners at the events which include perfectly optimised cooling and heating products that offer outstanding performance and energy efficiency.
BUILDEXPO Africa is supported by the Ministry of Transport, Infrastructure, Housing and Urban Development, Kenya, the East African Chamber of Commerce, Industry and Agriculture, Tanzania Private Sector Foundation, the National Housing Corporation, Tanzania and the Confederation of Tanzania Industries among others.
Over 700 exhibitors from 50 countries including Germany, China, India, Turkey, Italy, UAE and France along with leading construction firms from East Africa have confirmed participation at BUILDEXPO Africa 2017.
For more information and to participate at BUILDEXPO AFRICA 2017 please visit: http://buildexpo.expogr.com