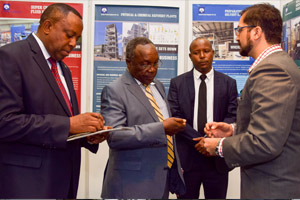 Posted on :Tuesday , 13th June 2017
The East African nation of Tanzania has an estimated population of 50 million as of 2016. The country has maintained relatively stable, high growth over the last decade (averaging 6%–7% per annum). While the poverty rate has recently declined, the absolute number of the poor has not changed given the fast pace of population growth (over 3% per annum).
Today, agriculture is the main contributor to the value of Tanzania's economy, while tourism is the leading sector in terms of foreign exchange earnings. Tanzania's economic potential comes from the mining & energy sector which draws increasing amounts of global investments due to the country's position as a net exporter of gold and its recent discoveries of natural gas reserves.
Tanzania's annual GDP growth rate averaged 7% over the past 5 years, making it one of the 20 fastest growing economies in the world and beating the Sub-Saharan Africa average GDP growth rate of 4.4% during the same period.

Tanzania is a thriving nation; it has seen increase in FDIs by 13% from USD 1.8bn in 2011 to USD 2.04bn in 2015, making the country the first FDI destination in East Africa.
Investments in Tanzania increased largely thanks to the recent discoveries of 45 trillion cubic feet of natural gas reserves, the 2015 World Investment Report of the United Nations Conference on Trade and Development (UNCTAD) indicates. According to the Foreign Service Institute of the US Department of State, the top five providers of FDI into Tanzania are South Africa, UK, Kenya, Canada, and China and to help with this upstream Expogroup brings to you the 20th EAITE 2017 Tanzania.
The Expo will consist of more than 95 exhibitors from 30 countries and will showcase their latest wares to thousands of trade buyers and decision makers from throughout the Middle East, Africa, and further afield.
Taking place from August 22 to 24 at The Mlimani Conference Center, the annual three-day event will arrive with the biggest aftermarket brands on-board, spread over 15 multi sector product categories, to name a few Automotive, Medical and Healthcare, Building Material, Food and Hotel supplies to name a few.
With more than 200 exhibitors combined, Building Material and Automotive comprise the largest portion of EAITE Tanzania, and features global stalwarts such as Hi-Watt- China, 1st Outdoor Products Co., Ltd- China, Etihad Airways- U.A.E to name a few .
Some of the exhibitors shared their experiences from last year's EAITE...
Rishabh Goyal, Marketing Executive - Goyum Screw Press, India said "Halfway through day two, we'd already generated enough new business to cover the cost of the stand, a worthy investment. We've met a huge variety of people, discussed everything from and I can't fault the organization and arrangement."
Nurhan Geydir Int. Marketing Manager - Gunko Endustriyel Sistemler Sanayi Ve Ticaret Ltd. Sti., Turkey said "The quality of the visitors has been absolutely excellent; there's been a wide cross section of all industries since it was a multi-sector event here and we've met some really interesting potential clients."
Raharivelona Fenohasina Managing Director - Home & Decor, Madagascar said "We chose to exhibit at the EAITE as it is a great opportunity to showcase the advances we have made as well expanding the brand image and networking with new business. The show has been very well organized; we'd love to exhibit in 2017"
EXAITE brings together domestic and international multi sector industrialists to be part of the change. Serving as forum to connect local developers with international partners and investors the expo aims to create well capitalized and experienced partnerships who can deliver high quality in a timely manner to the East African region.
Connect with the right people for your company; this is just a beginning of greater opportunities. There is no better place to be for getting market players, decision makers and investors in one room, especially in this region that has huge potential.
EXAITE will continue to deliver growth to your business and to East Africa for years to come. It will be a combination of attendees, speakers, exhibitors and hours of networking. So you can mark your calendars, as the 2017 EXAITE Tanzania awaits.
Do not miss out on this unrivalled opportunity in this ever so growing market to witness change and expansion in a multi sector forum.