ENERGY TALK AFRICA 2017 is the official conference at Africa's prime International Power & Energy and Solar Trade Exhibition - POWER & ENERGY AFRICA. Energy Talk Africa is co-organized together with Tanzania Private Sector Foundation (TPSF, Tanzania). POWER & ENERGY AFRICA, Energy Talk a leading force in delivering a podium for the energy industry enthusiasts to meet and share information on the challenges the industry is facing and to discuss solutions to access affordable, reliable, clean & green energy in Africa's growing economy.
ENERGY TALK AFRICA 2017 serves as a catalyst for the development of a sustainable and competitive energy sector in Africa. Africa's energy requirements are enormous and the demand is growing but resources are limited both in physical and financial terms. It is a long term imperative that these resources are exploited optimally. Africa is attracting significant attention from major overseas project developers, equipment suppliers and financiers. Given the phenomenal prospects available in this sector, Energy Talk will provide an opportunity to network; collaborate with peers, innovators, thought leaders and policy makers.
Energy Talk's diverse group of delegates will include:
Government representatives

Trade Missions and Embassies' Representatives

Energy utilities and energy transmission companies

PV, solar-thermal, CSP systems producers

Investors, project finance and insurance providers

Power & Energy, Solar, Oil & Gas and Mining companies

Telecommunication experts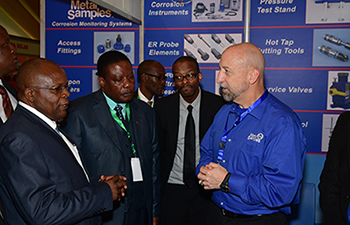 Program
Key Topics: Leading experts from inside and outside the industry will discuss the, industry trends, geopolitical - relating to politics and that are influenced by geographical factors and social and that will have the maximum impact on the environment. What are the challenges and opportunities that will have a lifelong impact?

Topics:
Emerging Opportunities in the Solar Energy sector

Appreciate the challenges and opportunities facing the industry to achieve resilient, energy-efficient communities and green cities

Innovation & Global Technology Trends

Green energy and Eco-friendly materials: sources, products and scientific challenges

Applications and feedback on Green energy

Opportunities and constraints for development of the Energy sector

Solar Power and its impact on the development of the future
During this conference experts will exchange knowledge and share ideas about best practices and new technology developments, with the aim of providing low carbon and sustainable solutions. It's a must-attend event, covering all aspects of power generation, renewable and solar energy. You will be among like-minded individuals with common goals and objectives.
Objective
Global networking and business opportunities

Forging of partnerships and investments

Learn about the latest trends in the electricity reformation

The do's and don'ts of standing out as an Regulator, Investor or Supplier

Explanatory environmental impact

Acquire advanced skills on the best financing techniques

A platform to showcase your brand and capabilities

Be inspired by stimulating presentations and problem-solving panel discussions

Learn more about the developments in the electricity market through case studies

One-on-one meetings with government and industry players

Gaining knowledge of the latest advances in technology