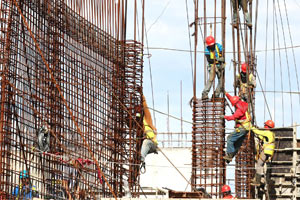 Posted on :Wednesday , 2nd September 2020
The building of Mt. Kenya region's tallest building has begun. The "Praise Mall" project for mixed-use urban growth covers a total area of 0.4 hectares of land along Meru-Embu-Nairobi Highway in Meru city, Meru County. Jesus House of Praise International church is designing the over USD 42 M project and Jianxi Jingtai Water Conservancy and Electric Power Development Ltd are carrying out the construction works.
The scope of the work includes the construction of a thirty-story building with 2 lower ground floors, construction of driveways, sidewalks and parking bays, installation of development utilities (water, drainage, electricity, health and safety systems, IT systems and security), and landscaping/beautification of the site. It's expected the entire work will take 3 years to complete.
The eventual Praise Mall will include office spaces, retail spaces, serviced apartments, hotels, swimming pools, gymnasium, modern conference facilities, church halls, a 200-capacity parking space and related accessories. The project will benefit the local economy by using locally available materials such as construction stones, iron sheets, timber, bricks, paint, electrical cables, water storage equipment, water pipes, steel, glasses, fencing posts, sand, cement, fuel, etc., and paying government taxes.
In addition, the project's construction and operation are expected to provide job opportunities ranging from unskilled, casual workers, semi-skilled and formal employees in building and construction, hospitality, health, agriculture, and other economic sectors. Elias Murega, Municipality MCA, said the mall would fully change the skyline and lift the profile of Meru City as well as act as a signature building in the area and a welcoming function for Meru Capital due to its position at the very entrance to the Central Business District of Meru City.