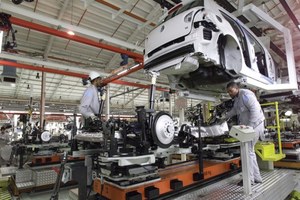 Posted on :Tuesday , 17th July 2018
Car Manufacturers are targeting East Africa to setup assembly line within the region of the continent.Simba Corp, a Kenyan company is in discussion with 4 automakers for setting up their assembly units in the country. While Chief Executive Officer of Simba Corp Adil Popat confirmed discussion with Renault of France about their assembling unit, the other car manufacturer showing interested is Mahindra and Mahindra Ltd, of India. He further refuses to let the names of the other car manufacturer. The car manufacturers are trying to beat the demand of industry, which is growing rapidly. This year the industry is expected to have growth of around 15 percent.
Currently Volkswagen, Peugeot, CNH Industrial and Nissan motors have declared their plans to start the assembly plant in the country. These four soon to come firms would also add to the car manufacturer's objective in Kenya.
The production of new vehicle is predicted to increase more than 14 percent per annum in the coming four years. This would all be driven by the increasing domestic demand and enhanced export prospects. The manufacturers are looking for a assurance from the Kenya government on various Tax benefits and assurance to gradually restrict or stop imports of second hand vehicles completely, in order to benefit the local assembly. "It's a volume business," Popat said. "We need to commit numbers."
Kenya Industrialization Ministry is under the process to implement age restrictions on import of used cars and also take into consideration a new policy for Motor-vehicle that demands Tax breaks. The demand for new vehicle fell down by 20 percent in Kenya 2017, due to the August Presidential election effect and a rerun during the month of October landed the economy to a standstill. While the Kenya market is now on a slow start, the sales are expected to lift up, driven mostly by the government orders.