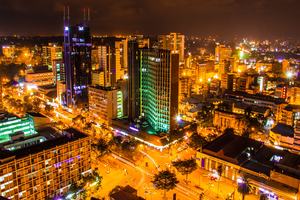 Posted on :Thursday , 7th June 2018
Kenya, a land where the world's wealthiest people have found a new place to hunt for second homes.
In a new report by a prime real estate consultancy, Kenya's capital, Nairobi, as well as its coast and the countryside near Mount Kenya are listed as hotspots
While Kenya enjoys a prime spot on the radar of 4% of the global rich looking for a new property, the African ultra-rich count the East African nation among their top five locations for a second home.
Offshore interest in Kenyan properties follows the growth of a mature—and somewhat resilient—real estate market over the past decade or so. As the property business boomed, regional and international investors have also poured capital into high-end retail and office spaces. As Kenya pitches itself as a regional financial hub, new business districts have sprung up in Nairobi; by 2019, the city will be home to Africa's tallest building, The Pinnacle.
Kenya is expected to be a bright spot in Africa, with a diversified economy that isn't reliant on global commodity prices. According to the World Bank, the Kenyan economic growth is set to reach up to 6.1% in 2019, boosted by strong remittance inflows, a rebound in the tourism sector, and a robust technology industry. Ambitious infrastructure projects, including a $3.2 billion rail line and new highways are also fueling the economy's expansion.
The country's new millionaires, whose ranks have doubled in the past decade, look to property as a way to solidify their wealth. Both these local and international financiers like to have a home in Nairobi to conduct business, as well as owning property by the beach to relax on holiday. Sources say that the Kenyan real estate market is expected to continue to pull in high-income potential home buyers. On the coast and in the bush, buyers will be drawn by their hearts as much as their heads.