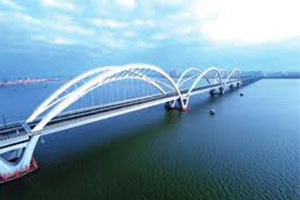 Posted on :Monday , 29th April 2019
Ethiopia has signed an agreement with a Chinese firm, China Communication Construction Company (CCCC) to design and build the country's longest bridge.

The Company secured the deal by placing an offer, which was 15.3% higher than the engineers' estimate. Three companies were disqualified at the technical stage, leaving CCCC as the sole bidder whose financial offer was opened on February, 2019.

Construction of bridge will be done across the Abay River at a cost US $49m. It will have a 21.5m width and the capacity to accommodate a three-lane carriageway, a bicycle path and a walkway. The entire Cost of the project will be covered by the government of Ethiopia.

Construction works on the project is estimated to take three years. The Bahir Dar Abay bridge will be the longest bridge in Ethiopia once constructed, taking over that claim from the 319m Bashilo River Bridge that opened for traffic in October 2006.

China Communication Construction Company is behind many major mega projects in the country, including the construction of Kombolcha Industrial Park, the nation's first, Addis-Adama Expressway, Africa Avenue (Bole Road), Measo-to-Djibouti railway and the expansion of the Addis Abeba Bole International Airport, secured the project after competing against three other Chinese firms. The company currently has four ongoing road projects with ERA including Hawassa Airport-Bishan Guracha (Tikur Weha); Jijiga-Gelesh; Cherereti-Hagermekor; and Arsi Negele-Hawassa.