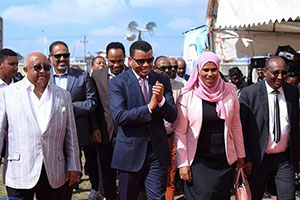 Posted on :Thursday , 16th January 2020
MIDROC Ethiopia is commenced to build a 4-billion birr worth edible-oil factory which is expected to produce 600,000 liters of cooking oil daily.

A cornerstone for the factory was laid in Addis Ababa's Summit area, adjacent to the Pepsi Cola factory.

The event was laid by Addis Ababa City Mayor Takele Uma, representative of Sheikh Mohammed Al-Amoudi, Chairman and Owner of the leading Ethiopian Investment group, Midroc Ethiopia, Abennet Gebremeskel.

The 100 million Euro oil processing factory to be built by MIDROC's sister company, Horizon Plantations PLC, envisages playing a key role in import substitution, according to the firm.

Resting on 50, 000 sq m, the plant will have a capacity of processing 500 MT of oilseeds (600,000 lit) a day and is expected to save 25% of the nation's foreign currency expenditure.

Though Ethiopia has a huge potential to produce oilseeds and cooking oil, the majority of its people depend on imported palm oil purchased with government subsidy.

The country spends about 600 million USD annually to purchase edible oil every year from abroad and this amounts to 25% of the county's foreign trade expenses.

Local cooking oil manufacturers cover only 4% of the country's total consumption.

"Cognizant of this hard fact, Sheikh Mohammed Al-Amoudi has decided to erect this state-of-the-art factory to stabilize the price of the product and contribute its share in import substitution," said Midroc in a statement.

MIDROC's commercial farms would be the main sources of raw material for oil manufacturing, said the CEO of MIDROC Ethiopia Projects Office Abennet.

He also said that the company has currently finalized the selection of the state-of-the-art machinery for the oil processing plant and has set aside 4 billion birr (100 million Euros).

Abennet also said, "The launching of the construction of the modern cooking oil factory is a very good example of our commitment to engage in the recently announced Home Grown Economic Reform of the Government."