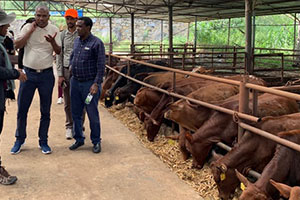 Posted on :Wednesday , 22nd September 2021
Djibouti-based African businessmen have indicated interest in establishing a state-of-the-art abattoir in Ethiopia. The statement was made during a three-day investment mission to Ethiopia, which was targeted at assessing and adding value to Ethiopia's large and untapped livestock potential.
During their visit, the investors met with high-ranking government officials, relevant authorities, and Ethiopian private sector representatives, according to Ethiopia's Ministry of Foreign Affairs, including Fikru Regassa (Ph.D.), State Minister of Agriculture, and Misganu Arega (Ambassador), State Minister of Trade and Industry.
During the discussion, Mustapha Jamma, the head of the investment group, stated that the new abattoir that the investors aim to open will implement integrated livestock management from the farm to the abattoir, strengthening the traceability of the cattle to best serve European and other markets.
The state ministers, while praising the investors' efforts and their "good proposal," underlined the necessity for standard schemes such as those that assure traceability in order for the market to broaden and diversify outside of Ethiopia's traditional go-to market, the Middle East.
When the livestock management plan associated with the new abattoir is implemented, it is expected to have a significant impact on the lives of farmers and pastoralists by introducing new fattening and feedlot concepts, medications and animal health management, as well as high-level abattoir technology and creating more jobs.
The new abattoir is planned to have an initial processing capacity of 600 oxen, 5,000 sheep and goats, and 100 camels per day when it is fully operational.
Ethiopia is Africa's richest country in terms of livestock, with tremendous untapped potential in the sector.