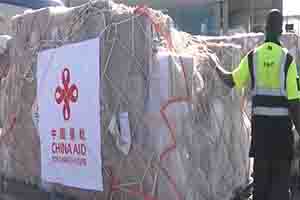 Posted on :Thursday , 15th October 2020
At the turn of the 21st century, China and Africa established what would become one of the world's most vibrant and successful multilateral platforms for international cooperation - the Forum on China-Africa Cooperation (FOCAC).

As the forum marks its 20th anniversary this year, it has triumphed over naysayers' pessimism over China-Africa cooperation and carried forward the spirit of jointly building a China-Africa community with a shared future.

FOCAC, since its inception in 2000, has gone a long way in multiple spheres.

In the face of adversity, Mohammed witnessed how the China-Africa partnership has prevailed.

"I have seen how the Chinese government has done a wonderful job in securing the lives of both its citizens and those of international students by declaring a state of emergency, prohibiting mass gatherings, issuing a mask mandate and lockdown orders," Mohammed said, recalling his days in Wuhan.

After receiving his master's degree in biological engineering at the Huazhong University of Science and Technology in China, the 25-year-old returned to Ethiopia in June and worked as a research and development engineer at BGI, a COVID-19 test kit factory built by China.

"As an Ethiopian, I am proud to work in a globally connected company like BGI," he said. "I'm contributing my share to the community."

Mohammed is just one of the millions of beneficiaries of thriving cooperation within the framework of the Forum on China-Africa Cooperation (FOCAC).

From West Africa's Nigeria to East Africa's Ethiopia, China has built more than 6,000 km of railways and roads, respectively, as well as nearly 20 ports and more than 80 power plants, which have promoted African industrialization and enhanced the continent's development capacity.

"Looking at what Africa has become in the past 20 years with FOCAC, we can say that it has been a game-changer. The whole African infrastructure has been massively changed," said Charles Onanaiju, director of Nigeria's Center for China Studies.

The BGI factory, located inside the Bole Lemi industrial park on the outskirts of Addis Ababa, will not only boost the country's capacity to fight COVID-19, but also improve its position as a manufacturing hub in Africa.

"Once the plant reaches peak capacity of 10 million kits' production annually, it will not only be serving Ethiopia, but will also be able to serve other countries in the East African region and even the wider African continent," said Ethiopian Minister of Health Lia Tadesse.

Earlier this month, Ethiopian Prime Minister Abiy Ahmed inaugurated an industrial park built by China at a cost of 60 million U.S. dollars.

Ahmed said the Bahir Dar Industrial Park, located 552 km north of Addis Ababa, will facilitate the country's knowledge transfer and boost its science capacity in addition to creating more jobs.

"Ethiopia has so far commissioned 13 industrial parks which have been crucial in the country's efforts to achieve prosperity and boost economic development," he said.

China's stock of direct investment in Africa has reached 110 billion dollars, and over 3,700 Chinese enterprises have invested and started businesses in various parts of Africa.