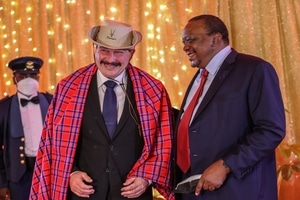 Posted on :Friday , 11th February 2022
Nairobi - Kenyan President Uhuru Kenyatta has praised the country's strong bilateral ties with Hungary, stating that the relationship is primarily driven by economic cooperation, trade, and investment.
Kenyatta, on the other hand, bemoaned the low levels of commerce and investment between Nairobi and Budapest over the last five decades, despite the fact that the two cities had enormous commercial potential.
The balance of trade between Kenya and Hungary is biassed in favour of the latter, according to the United Nations database on international 2020 statistics, with Kenya's imports totaling $9.36 million (Sh1 billion) and exports totaling $785,000. (Sh89 million).
"To address the low trade volumes, we must increase our efforts to develop greater linkages and networks between the private sector and business communities in both nations, and urge them to take advantage of the economic opportunities that exist in our respective countries," Kenyatta added.
Kenyatta addressed during a formal banquet held by him and First Lady Margaret Kenyatta for visiting Hungarian President János DER and his wife Anita Herczegh at State House in Nairobi.
President Kenyatta remarked at the banquet that Kenya was dependent on Hungary's help to unlock the East African Community-European Union Economic Partnership Agreement.
Kenyatta stated, "Kenya looks forward to the signature of the Economic Partnership Agreement between the East African Community and the European Union, which would open up larger trading and economic prospects."
The EU-EAC EPA encompasses goods and fisheries trade, as well as development cooperation targeted to bolstering cooperation on resource sustainability. In the future, there will be more agreements to cover services and trade-related norms.
On multilateralism, President Kenyatta stated Kenya and Hungary share common viewpoints on major global issues such as climate change, and thanked Hungary for its support in Kenya's election to the UN Security Council as a non-permanent member.
"Climate change mitigation is a pressing issue in our time, and my government's commitment to this noble cause extends to the United Nations Security Council, where climate and security will be a major priority during our term."
"We look forward to continuing to work closely with the Government of Hungary to advance the climate change agenda and other shared global goals inside the UN system and other multilateral venues," he said.
President János der of Hungary praised the government for its commitment to improve Kenyans' lives through transformational development programmes, and expressed optimism that the current growth pace will continue beyond President Kenyatta's term.
"What I pray for you, Mr. President, because you will be leaving office in August, is that you have enough time and strength to prepare all of these (development) programmes and implement them over the remaining six months."
"I wish your successor had the same level of excitement and drive as you had, Mr. President, to actually finish all of these (development) programmes," President Ader remarked.