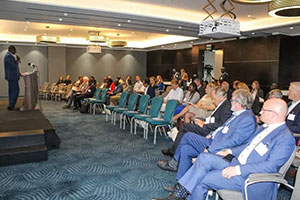 Posted on :Thursday , 1st December 2022
The Netherlands' Deputy Ambassador to Kenya, Joris van Bommel, led a group of Dutch healthcare companies to Kisumu County in order to explore potential partnerships aimed at enhancing healthcare infrastructure.
14 Dutch enterprises were on a mission from the governor, Prof. Anyang' Nyong'o, to examine potential trade and health ties between his administration and the Netherlands.
Bommel stated that the Netherlands is eager to establish strong alliances and look into investment opportunities to increase trade and investments within the nation.
Speaking at the conference in Kisumu, Dr. Sarah Spronk, a former Dutch minister of foreign affairs, said the agreement would do much to reduce health-related inequities by advancing technology and medical infrastructure and fostering high-quality healthcare and treatment throughout the area.
Gregory Ganda, the chief of health, expressed his belief that Kisumu would greatly benefit from the partnership's plan to digitise healthcare.
To assist us implement programmes like the Electronic Community Health Information System (eCHIS), we want to draw on the Dutch nation's robust network digital health infrastructure, according to Ganda.
He stated that the population's ability to prepare and make educated decisions depends on the digitization of healthcare.
The primary healthcare system must rely on donor funding because the national government only committed a pitiful 11% of its budget to the health sector in the Financial Year 2022–23.
Ganda also noted the need for immediate action, such as the local infrastructure being expanded, given the recent rise in the prevalence of chronic diseases including cancer, diabetes, and heart disease.
Nyong'o praised the collaborators, claiming that his administration had made courageous efforts to revitalise the healthcare industry through smart alliances.
Innovative agreements have been struck between Kisumu County and its partners, including the testing of drone delivery services for the delivery of vaccines, medications, and blood products in various hospitals and the adoption of electronic health management information systems. Kisumu County prides itself on being a medical hub destination for the Lake Region Economic block.
"We continue to be dedicated to reducing financial risk for all residents and bolstering the health systems through strategic alliances and ongoing quality improvement. In this effort to reform our health care systems, I call for increased collaborations, the Governor said.
Micha van Lin, managing director of Task Force Health Care and the delegation's leader, expressed optimism that the cooperation will create a venue for exchanging innovations, know-how and experiences to help with healthcare concerns.