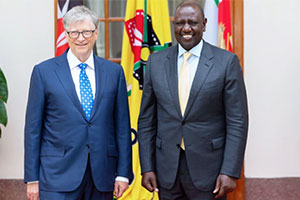 Posted on :Wednesday , 30th November 2022
Microsoft established a cooperation with the International Finance Corporation (IFC) to support digital transformation through its Africa Transformation Office.
The goal of this programme is to give farmers access to real-time data-producing digital technologies.
IFC will be in charge of overseeing the programme for digital transformation's corporations and financial management.
The initiative will also get investment, consulting, and asset-management services from the International Finance Corporation.
Microsoft and the Alliance for a Green Revolution in Africa (AGRA) signed a new Memorandum of Understanding in June 2022 to collaborate on developing agricultural technology solutions.
In 11 African countries, the new cooperation will assist 30 million farming households.
Utilizing big data and AI to increase food production in Kenya is the main driver of the digital transformation.
The Kenyan government's policy is also being adopted by the governments of Nigeria, Rwanda, Ghana, Tanzania, Uganda, Malawi and Ethiopia.
By investigating potential applications for big data and artificial intelligence in the digital transformation, technical support is intended to enhance their digital offering.
Partners will also provide the essential skills by making use of Microsoft programmes already in place, such as by jointly managing an internship programme.
The co-design and development of technological solutions to assist digital transformation programmes and processes is another benefit of this relationship.
Previous recipients of such programmes included the Local Development Research Institute (LDRI), Amtech Technologies, East Africa Farmers Federation (EAFF) and the National Potato Council of Kenya (NPCK).