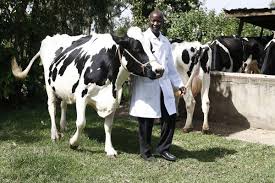 Posted on :Wednesday , 22nd March 2017
The government is finalising the construction of a Sh800 million station to keep bulls that will generate quality semen for Artificial Insemination (AI) services following an increased demand from Kenyan dairy farmers.
The bull station, based at the Agricultural Development Corporation (ADC) headquarters in Kitale will supply semen to the Eldoret-based liquid nitrogen plant for storage and sale.
Livestock Principal Secretary Andrew Tuimur said the bull station will have the capacity to supply the country with sought-after quality semen needed to improve the production of milk.
"Where we are headed, the prices of milk will be dictated by the quality of milk and that is why we decided to establish this bull station to get semen from some of the best breeds in the world," he said.
Mr Tuimur said the liquid nitrogen plant which is also under establishment would be instrumental in embryo transfer for advanced artificial insemination, a new frontier in AI services.
Teething problems
"The plant had teething problems during establishment but we have sorted out the issues and soon it will be operational," he said.
The PS spoke in Elgeyo Marakwet County at the weekend when he officiated the launch of the county's own brand of milk Elma Milk, processed by Metkei Farmers Cooperative milk processing plant bought for them by the county government at a cost of Sh15 million.
Elgeyo Marakwet Governor Alex Tolgos said the county government was purchasing milk processors for its farmers from various parts of county but under one brand name.
"This is a major milestone for us in our value addition efforts so that dairy farmers in this County can sell their packaged milk under one brand name and get value for their produce delivered to their various Saccos," he said.
The PS further called on dairy farmers to invest in silage making in their homes for use as animal feeds, saying this was a sure way of reducing milk production costs.
Tax exemptions
He regretted that despite tax exemptions on importation of animal feeds, they remain expensive to ordinary farmers.
"As government we can do little because we have liberalised the dairy sector. What farmers can do is to prepare their own feeds through silage making and these will drastically reduce their costs of producing milk," said Mr Tuimur.
The PS also urged more farmers to engage in dairy farming, saying it was the most profitable and fastest growing agriculture sub-sector benefitting two million Kenyans directly and a million indirectly.
"Right now, the dairy sector contributes 5 per cent to the country's economy and this goes to show that there is a lot of potential in this area," he added.