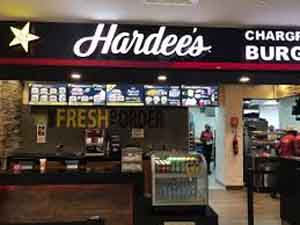 Posted on :Wednesday , 18th April 2018
American fast-food heavyweights Hardee's is all set to open its third branch at the Two Rivers Mall this March. This comes soon after the launch of Hardee's second restaurant in Kenya on Westlands Road.
Rohit Gambhir, General Manager of Hardee's Kenya said that the Two Rivers outlet will focus on the large number of customers that visit the shopping mall on a daily basis, while the Westlands branch will target the industries in the locality of Westlands Road.
Hardee's first outlet was opened in 2016 at the Jomo Kenyatta International Airport. The chain at present directly employs 60 persons at its three outlets in Kenya.
"Our expansion drive this year has been inspired greatly by the positive growth recorded by the firm over the time we have been in Kenya and the growing demand for our products and services.
Gambhir trusts that the guarantee of value and a refreshing product is what has pushed Hardee's to accomplishing record growth statistics. Hardee's is present in 44 nations worldwide and currently runs 3800 eateries.
The Hardee's brand is owned by CKE Restaurant Holdings, who revealed that the decision to expand into Kenya was influenced by the strategic geographical position of the country and the projected rise in consumer spending on food and drink.