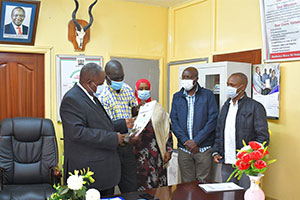 Posted on :Wednesday , 6th January 2021
Franklin Bett, Chairman of the Board of Agricultural Finance Corporation (AFC), urged residents of the county of Marsabit to use corporate lending in order to enhance food safety and generate wealth.
Mr. Bett said that the government committed to make Kenyans autonomous, providing not only affordable but also flexible credit for generating wealth and transforming life. The Chairman of the Board who held a pioneering event to establish AFC offices in the city of Marsabit said that without prejudice to the revival of crop and cattle farming in the area, the state will provide lending with little interest.
He pointed out that the Marsabit office, with USID Kenya funding for construction, would make sure that its huge agricultural potential was utilised to enhance development production.
'This company would ensure that farmers have access to cost-efficient loans and flexible services to their agri-business needs,' Mr Bett said.
The Chairman and the Chief Executive Officer of the company Rose Ochanda as well as the Future Operations and Awards Director of the USAID Kenya Feed Mary Kioko said the new branch would run in April of the next year.
He stressed that the company aims to help farmers and particularly young people engaged in agri-business activities to increase their lives.
The AFC farmers currently in need of credit are travelling to Meru for the critical service over 300 kilometers after the company closed its subsidiary in Marsabit in 1989 due to the decreased financial transactions.
Mr Muriira called on farmers who mainly farm cattle, by diversifying their farming activities to beekeeping, poultry and fish farming, for adaptation to climate and other risks. He called upon AFC to take into account the need for financial support and technical support for sponsoring training for local farmers on agricultural production.
This would open avenues for added value and better commercial chains, the Deputy Country Commissioner said, to make the company profitable and workable, in compliance with the 4 main governmental food security agenda.
Mr Isaak Oto, a customer of AFC, noted that a reintegration of the business could contribute to restores production of both crops and animals, and also make it easy for cottage industries such as cheese, meal milling, pasteurisation and packing industries to begin.
The development was welcomed by Mrs. Angela Matacho, a farming farmer from the region of Karare and the director of a dairy company in the town of Marsabit who believed that increased farm lending would greatly increase crop viability and livestock farming.
"The arrival of the AFC is very pleasing to the people in this county, for it is a sign of good farming prospects."
Ms Kioko said that its collaborations concentrate on the Government's dedication to preparing and implementing solutions, as was the case with the AFC, on the path of USAID to an independent roadmap, She said that her organisation will continue to help all levels of government as governments change people's lives and livelihoods.