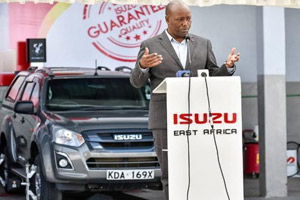 Posted on :Friday , 2nd April 2021
Within the devolved unit's Special Economic Zones and Industrial Parks, the Nakuru County Government is wooing vehicle manufacturing companies to invest in local production of spare parts.

Governor Lee Kinyanjui claimed that as the national government intensifies its campaign to promote local vehicle assembly, the establishment of plants at the county level to locally produce spare parts would significantly boost Kenya's industrial sector as a source of job creation.

Kinyanjui told KNA in Nakuru on Wednesday that most major car dealers and assemblers were opening approved dealerships in the devolved unit's major towns.

"Automotive spare part plants can be built by public-private partnerships. This initiative has the potential to draw investors who will develop factories with ample capacity to meet local and regional spare part demand.

"There would be several dividends, including work growth, technology transfer, and contribution to the gross domestic product. The governor clarified that "direct cash injections and the production of additional jobs for local suppliers of parts and accessories to the assembly plants would greatly benefit the economy."

Kinyanjui opened the Sh50 million Njewa Automobile in Naivasha City, which is an Isuzu approved dealer.

The county boss stated that overreliance on imported spare parts had diluted growth in the automotive sector, preventing the expected economic impact even after the National Government implemented the National Automotive Policy.

The policy aims to help Kenya's automotive industry expand and turn into a significant contributor to the country's GDP in the manufacturing sector by 2023.

In addition, the strategy seeks to promote job creation and skill growth. Local assemblies, on average, produce more structured jobs than automotive import trades, according to statistics from other nations, resulting in a ten-fold increase in employment opportunities across the business value chains.

"If the right investment climate is placed in place, the automobile industry has the potential to generate over 150,000 jobs in Kenya directly or indirectly as a result of the Automotive Policy.

When we combine the manufacturing of spare parts with local vehicle assembly, we build formal, quality, and meaningful jobs where employees can afford to pay taxes and move technology," Mr Kinyanjui explained.

According to the governor, his administration has been developing policies and enacting laws that have made it attractive for local companies to export again, boosting their capacity to expand within the country while concentrating on SME growth and productivity.

"We've been collaborating with other government departments, as well as the private sector, to make it easier for potential investors by establishing a one-stop shop where they can get all the paperwork they need. "We have policy measures in place that are deliberate and predictable," he said.

"As an initial move toward setting up cottage industries, we are also exploring direct use of steam from Africa's largest geothermal power plants at Menengai and Olkaria for small and medium-scale agricultural enterprises," he said.

Kinyanjui said that continued road infrastructure improvements, such as the building of two interchanges along the Nairobi-Nakuru-Eldoret and SGR lines at Naivasha, would make it easier to travel to and from the County, which he believes is critical for industrialization.

"We also invite investors to take advantage of the 1,000 acres of land in Satellite that has been gazetted as an industrial zone along the Mai Mahiu-Suswa Road," Kinyanjui said.

Mr Raymond Komen, a member of the County Executive Committee for Trade and Tourism, stated that the County's position, good infrastructure, affordable power from the Menengai and Olkaria geothermal plants, the upcoming airport in Lanet, and the Standard Gauge Railway (SGR) now linking Naivasha and the Mombasa Port were all contributing to the new flow of local and foreign investments into Nakuru.

He explained that the national government had designated 404.7 hectares (1,000 acres) in Mai-Mahiu, Naivasha Sub-county, as a Special Economic Zone since industrialization is the lifeblood of any economy.

He claims that the development of the Naivasha Industrial Park and Dry Port has raised the city's profile and will establish Nakuru as a commercial hub in East Africa.

"There has never been a county that has developed without industrialization. This is why the manufacturing sector is a top priority for the government's Big Four Agenda. Nakuru County is a major source of raw materials for industries due to its agricultural hinterland. The town is strategically positioned in relation to the rest of the world, making it more accessible," according to the CEC.

Nakuru's administration continues to establish policies that improve local industry's competitiveness by promoting value addition and diversity in locally generated goods. Mr Komen continued, "County Assemblies must pass legislation that protects and attracts investors.".

Ms Peris Mbuthia, the Kenya Association of Manufacturers (KAM) South Rift Chairperson, characterised the arrival of new factories in the devolved unit as a sign that Nakuru would overtake Nairobi as the country's preferred investment destination.

The Kenya National Bureau of Statistics recently conducted a survey on the Gross County Product, which revealed that Nakuru is the second largest economy in Kenya after Nairobi, ahead of the larger cities of Mombasa and Kisumu.
The County's 6.1 percent contribution to the economy, which is second only to Nairobi's 21.7 percent, is expected to grow further as a result of ongoing and planned industrial developments that are expected to generate more wealth and job opportunities.