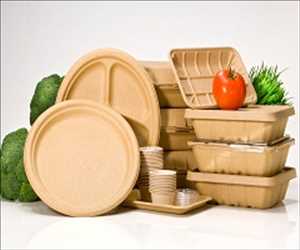 Posted on :Tuesday , 26th January 2021
Today's companies call for creative and superlative strategies to succeed in this rapidly changing marketplace. With Green Food Packaging, businesses can gain unprecedented insights and awareness of the best business prospects in their relevant markets.
Due to rising demand at the end user level, the market will witness growth during the forecast period. The green food packaging market will hit an approximate size of USD 311.7 billion by 2027, with a growth rate of 10.00% for the 2020 to 2027 forecast period. In the forecast period of 2020-2027, increasing concerns about environmental security and strict government regulations would propel the sector.
On the basis of packaging type, the green food packaging market is divided into reusable packaging, recycled content and degradable packaging. As per material, the food packaging market is segmented into glass, paper & paperboard, plastic and metal. When it comes to application, the green food packaging market is segmented into bakery, confectionery, convenience foods, dairy products, fruits and vegetables, sauces, dressing and condiments and others. Based on type, the green food packaging market is segmented into boxes, cans, bottles and pouches.
Green packaging is also known as sustainable packaging; designers can make packaging viable by considering the environmental impact in terms of production, disposal or use. By following the government regulations, most manufacturers use sustainable packaging to eliminate any kind of chemicals that could cause damage to our planet's water, soil and atmosphere.
Green food packaging can reduce greenhouse gas emissions due to a reduced dependence on the biodegradable nature of the products and fossil fuels produced. Garden waste and soil-filled organic food releases methane gas that is used as renewable energy that will have a positive impact on the green food packaging market, forcing manufacturers to use sustainable packaging options over convection packaging materials will also contribute to the growth of the green food packaging market. In addition, edible packaging materials will create growth opportunities for East Africa in the 2020-2027 forecast period