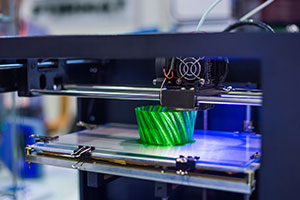 Posted on :Tuesday , 29th March 2022
Kenya has long been regarded as an African innovation hotspot. In Kenya, there are a number of companies that make use of 3D printing, and the country has a strong entrepreneurial and innovative culture. This has made 3D printing a highly practical and appealing technology, and if there's one thing that drives it all, it's Kenya's desire to develop its own solutions. Kenyans enjoy coming up with their own answers to issues, and 3D printing fits in nicely with this philosophy. Furthermore, Kenyans value and encourage local productivity, resulting in a creative and innovative environment in which 3D printing technology has a significant impact.
Kenya has done exceptionally well in terms of growing and improving with 3D printing technology. Alois Mbutura, a 20-year-old electrical engineering student at Nairobi University in Kenya, created a microscopic vein finder for use with children in the hopes of reducing newborn mortality and improving immunisation coverage. A MakerBot 3D printer was used to 3D create the miniscule vein.
Another noteworthy development is the medical start-up Kijenzi Medtech, which is employing 3D printing technology to bring medical solutions to Kenya's rural clinics, especially those in extremely remote locations.
Ultra Red Technologies is a Kenyan startup that is stepping up its 3D printing game, creating things such as tailored canopies for wildlife expedition vehicles. In Africa's wildlife sector, there is a lot of untapped potential, and Kenya is leading the way. Furthermore, Ultra Red Technologies is printing components for a solar-powered desalination equipment that will provide Kenyans with reliable and clean water. This will undoubtedly aid in the resolution of Kenya's water problems, as well as enlighten the continent to consider and pursue similar ideas.
In collaboration with the US-based social venture Level Up Village, Kenya Connect, an American-Kenyan non-profit organisation, is giving STEM and arts classes in 3D printing to schools. The goal is to promote and develop technology at the grassroots level, as well as to raise a generation that will fully utilise it.
Micrive Infinite is transforming surgery, therapy, and rehabilitation for patients by combining engineering, 3D printing technology, and medical research. More local medicinal solutions are predicted to aid and improve Kenyan healthcare.
3D printing has also aided the industrial industry. This has been bolstered by the University of Nairobi Science and Technology Park's creation of Kenya's Fab lab. Kenya Fab Lab was the first to introduce a 3D printer to Kenya, and they have since revolutionised the technology as it has spread across Kenya's economy. Furthermore, people in Kenya are purchasing personal 3D printers for their own use, indicating a growing interest in the technology.
With 3D printing, Africa's innovation powerhouse continues to grow. In Kenya, there is still a lot of promise for 3D printing, and the good news is that resources to spread the technology have been very easy to come by. Kenya, as well as Africa as a whole, has a bright future.