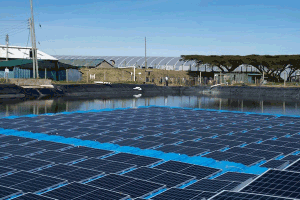 Posted on :Tuesday , 20th April 2021
German energy company Ecoligo has commissioned a floating solar power plant at the Rift Valley Roses flower farm. The 69 kWp plant reduces the environmental impact of the farm located near Nairobi, Kenya.
Announced a few months ago, the Ecoligo floating solar power plant is now operational. The plant supplies 69 kWp to the Rift Valley Roses flower farm, located near Lake Naivasha north of Kenya's Nairobi. The solar system floats on 1 of the farm's water tanks and helps reduce its environmental impact. The small solar plant complements an earlier 75 kWp installation on the roof of the farm's buildings, which has been in operation since the year 2019.
According to Ecoligo, the 2 solar PV systems allow the farm to avoid 136 tonnes of Carbon Dioxide emissions per year. The grid-connected installations also reduce the farm's dependence on electricity supplied by the state owned Kenya Power Corporation, as they now cover 60% of its needs. The new technology also reduces Rift Valley Roses' electricity bills.
The new floating solar power plant was fully funded by Ecoligo through the crowd investing. "Private investors have the opportunity to put their money into this sustainable projects, do something good for the environment and even profit from it with a return of up to 7% per year," says the solar energy provider. The solarisation of the Rift Valley Roses farm is supported by the Renewable Energy Solutions programme.
Coordinated by the German energy agency Deutsche Energie-Agentur, the programme targets to support companies in the acquisition and installation of renewable energy technologies. The programme is also supported by the German Federal Ministry of Economic Affairs and Energy through the German Energy Solutions Initiative. This other initiative supports the adoption of renewable energy and energy efficiency solutions.