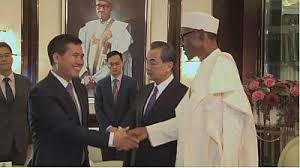 Posted on :Monday , 13th March 2017
China has disbursed nearly $30 billion to assist African countries in different projects as it pledged to be the most reliable partner in speeding agriculture modernisation and industrial development. The major developing nation in 2015 announced $60 billion funding support for Africa at the Sixth Summit of the Forum on China-Africa Cooperation that was held in Johannesburg, South Africa in December 2015.
Addressing journalists at a Press conference on Chinese foreign policy and foreign relations at the ongoing Fifth Session of the 12th National People's Congress here yesterday, Chinese Foreign Minister, Mr Wang Yi, said his country would continue to strengthen its relations with Africa and support the continent, even under harsh economic or world situations.
Mr Wang said China had set aside $60 billion for development in Africa and had already disbursed nearly half of the money.
"Since the Johannesburg summit, $60 billion was set aside by government to support Africa and nearly half of it has already been disbursed or arranged," he said.
"China and Africa are a closely knit community with a shared future. The cooperation is mutually between two brothers no matter how the international situation or world economy may evolve, there is no weakening in China's support for Africa. What distinguishes China-Africa cooperation is that China always keeps its words." Mr Wang said some of the projects that had already been undertaken since the Johannesburg summit included the completion of the Addis Ababa-Djibouti railway line.
He said completion of the Mombasa-Nairobi railway was also expected soon and some projects were underway in Congo and Tanzania, among other countries.
"Steady progress is being made in the building of a number of industrial parks across Africa," said Mr Wang. "We need to speed up work and undertake more cooperation work. China will be Africa's most reliable partner in speeding up agriculture modernisation and industrial development."
Mr Wang said China-Africa relations gave the continent an opportunity to achieve sustainable development.