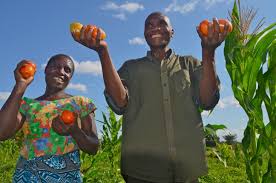 Posted on :Thursday , 16th March 2017
The government has assured farmers of reliable markets of their produce as it prepares to invest heavily in industries towards transforming the economy.
Minister for Agriculture, Livestock and Fisheries, Dr Charles Tizeba, told farmers who turned up at the SAGCOT Annual Partnership Forum in Dar es Salaam over the weekend that the contribution of the agricultural sector in the industrialisation drive was inevitable.
"We want our farmers to benefit from the industries since their produce will have a ready market," he said, adding that the Fifth Phase Government under President John Magufuli is committed to ensure that the economic growth reflects people's lives.
Moved by a big turn-up of local and international farmers and partners, Dr Tizeba said the government admits that the Southern Agricultural Growth Corridor of Tanzania (SAGCOT) has recorded great achievements.
He said through industries, the farmers would get competitive prices of their produce when reaching the market. "The aim of this endeavour is to guarantee the existing industries and those to be built get good supply of raw materials," he explained.
According to the minister, time has come for stakeholders in agriculture to do away with traditional farming and shift into commercial farming so that the sector's contribution could have an impact in the economy.
"The government has already started to lay a good ground in creating a conducive environment suitable for attracting investments in the agricultural and industrial sectors," he stressed. He said the government was in the process of allocating pieces of land meant for investments, especially for industries.
"As the minister responsible for Agriculture, Livestock and Fisheries I am very much impressed by the SAGCOT and its partners for commendable work. Your farming activities within the corridor stand as an assurance of food security," he said.
Chief Executive Officer of the SAGCOT Centre Ltd, Geoffrey Kirenga, told the minister that the forum came up with resolutions on how to support smallholder farmers improve their living standards through modern farming.
"Smallholder farmers' half of their harvests remain in farms because they do not know to procure if not preparing good seeds and how to apply farm inputs. One of SAGCOT's objectives is to the farming system," he said.
He said potato production in the corridor has improved and there were nine types of seedlings and 11 other types were in certification procedures before reaching the farmers. The forum also attracted Regional and District Commissioners from seven regions of Rukwa, Iringa, Mbeya, Njombe, Songwe and Ruvuma.
Speaking at the Forum, Iringa Regional Commissioner, Amina Masenza, was proud of her region, saying it has plenty of agricultural investment opportunities. "I would like to take this opportunity to invite you (investors) to invest in Iringa.
There is Ihemi Cluster which is full of agricultural opportunities," she said.