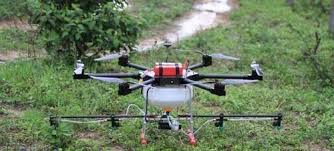 Posted on :Tuesday , 2nd May 2017
Guangzhou — Chinese firm Dajiang Innovation, popular known as DJI, recently launched its first agricultural aerial system, the Agras MG-1, operated as a drone, is now geared at providing cheaper crop spraying, also billed to become safer and more efficient. The company plans to supply the drone to local farmers to help ease their farm work, notably to minimize human labour and the cost of production.
The firm's communications manager, Oliver Wang said the drone operations were the best in aerial applications compared to aircraft in use for decades-- during both on pesticides and fertilizer applications.
"The combination of speed and power means that an area of 7-10 acres of land can be covered so easily ... and you can achieve this in just under 10 minutes," he said, adding this was 40 to 60 times faster than the manual spray operations.
He noted that Agras, which costs approximately $10,000, was tailor-made to large-scale farming, and the manufacturers say farmers would get value for their money--because the machine works "with precision and speed."
Says he: "... this crop spraying drone's price looks beyond reach for individuals, especially in developing nations ... but when purchased in groups or companies, the price will eventually appear too small when compared to the tasks it is intended for."
"The drone can scan the ground below and maintain the right distance from crops ... and spray the correct amount of liquid. The 10-litre tank can carry liquid that could cover a lot of ground," Wang explained.
Wang further says the machine's design "enables it to accelerate the spray while increasing its reach across plantations ... these features on top of other components within the machine ... like the ceramic spray nozzle that is resistant to wear and tear means it can be used for thousands of hours of effective spraying without degradation."
"In case of interruption due to the depleted battery, for example, or depleted spray liquid, the flight can easily be resumed from the last point in its memory after changing the battery or refilling its tanks." Wang disclosed.
Speaking after a demonstration of this modern agricultural equipment at the company's headquarters in Shenzhen, Guangdong Province, Wang noted that Agras adapts well to different environments. He says it works well in rugged terrain or on highly specialized missions, where its operator can freely navigate it in manual mode.
"With this machine, you can easily chart flights at the touch of a few buttons. You can perform different turns at the press of a button for irregularly shaped fields." He said.
Drones manufacturing was established in 2006, with a major focus on 'flight control and image transmission' systems; the company deals exclusively in the production of civilian drones. So far, it has delivered various models of consumer drones largely used in photography and filmmaking.