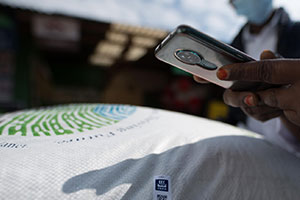 Posted on :Tuesday , 28th June 2022
One of the top importers, makers and distributors of fertiliser in the nation, Yara Tanzania, has introduced the AfricaConnect Initiative, a particular digital innovation aimed at rice farmers all over the nation.
Hon. Anthony Mavunde, the Deputy Minister for Agriculture, praised Yara Tanzania during the introduction of the project for its ongoing efforts to provide various digital solutions for farmers and traders.
"Your basic business is the importation, manufacture, and distribution of fertiliser in the nation, but you have gone a step further by improvising various projects that promote farmers," he added, adding that this complements government efforts to implement the Agriculture Policy in the nation.
The Minister urged rice growers all throughout the nation to support the fresh effort. Not all fertiliser businesses run initiatives like Yara's, but Yara has demonstrated that you are certainly the industry leaders in promoting zero hunger and new technology to boost productivity.
He makes this request at a time when the majority of farmers today rely on advice, expertise, and imprecise measurements to determine things like how much fertiliser to apply. Once a course of action has been chosen, it is put into practise, and results are typically not visible until harvest.
This correlates to the reality that the majority of farmers are either oblivious of or purposefully choosing to ignore the emerging, highly-recommended, and implemented agro-technologies. As a result of this realisation, Yara initiated a suitable intervention by developing a platform that unites partners under the "AfricaConnect" digital initiative, including Equity Bank, Corteva Agriscience, Agriculture Seed Agency (ASA), and Wilmar Tanzania Limited. This initiative will allow farmers to access financing, high-quality inputs, and market off-takers.
Additionally, in order to ensure the success of this and other developmental projects, Hon. Deputy Minister Mr. Mavunde urged all agriculture officers, at all levels, to work with Yara Tanzania in implementing this programme.
Winstone Odhiambo, the managing director of Yara Tanzania, said that in order to help rice farmers, Yara Tanzania has worked with Equity Bank, the Agriculture Seed Agency (ASA), Corteva Agriscience, and Wilmar Tanzania Ltd. Rice farmers will have access to this program's speedy loans, high-quality agricultural inputs, and accessible markets for their produce.
Isabella Maganga, managing director of Equity Bank, announced that the bank will provide farmers 30 percent of its loans so they may buy high-quality agricultural inputs and pay back later. She claimed that rice growers will be assured access to agricultural inputs through the application.
In order to enhance rice production and support the nation's food security programme, Mr. Odhiambo claims that they plan to reach more than 100,000 farmers in all rice-growing regions through the AfricaConnect initiative.
He stressed how the program's increased yield will help rice growers. He claimed that the programme will enable farmers to uphold strict quality requirements so they can obtain high-quality food.
According to Deodath Mtei, the Digital Solutions Manager for Yara Tanzania, the programme will initially target rice farmers before expanding to other crop producers as it gains popularity.
Through the AfricaConnect digital platform, which will give them access to funding, high-quality and dependable inputs, as well as ready markets, Yara Tanzania is focused on improving farmers' lives, starting with rice farmers.