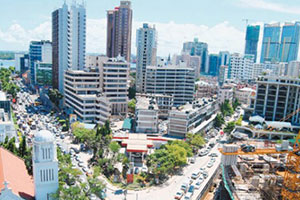 Posted on :Thursday , 28th February 2019
Investors from across the world have been motivated to take advantage of the wide trade and investment opportunities in the country as it is executing its inspiring industrialisation agenda.
"We need prospective investors from across the globe to invest in the country towards its industrialisation goal by 2025", said Octavian Mshiu, Vice-President of the Tanzania Chamber of Commerce, Industry and Agriculture (TCCIA).
Arranged by the Federation of Indian Export Organisations (FIEO) and Grow Exhibitions from Dubai, the event assembled exhibitors from various countries, including India, United Arab Emirates (UAE), South Africa, China, Poland, Saudi Arabia to display their products differing from agroproducts, health, construction, household appliances, hotel supplies, machinery and electronics among others.
Mr Mshiu said, "the achievement of industrialisation drive in Tanzania depends also highly on foreign investors as local investors cannot make themselves in order to complete the targeted time frame.
He further added that the exhibition was an opportunity for the business community from India and Tanzania to nourish bilateral relations via trade and investments, for the development of both countries and their people.
The Confederation of Tanzania Industries (CTI) chairman, Mr Subhash Patel guaranteed the investors that Tanzania was a peaceful country in Africa, calling on foreign investors to feel safae in establishing investment projects.
Mr Patel also advised Tanzanians to make the best use of the exhibitions by making sure that they completely participate and exchange experiences, ideas and technologies.
Mr Sandeep Arya, High Commissioner of India to Tanzania, said that, "the two countries will continue with the long-existing mutual trading cooperation and called on local Tanzania firms to partner with Asian firms, if the country is to make maximum achievement particularly in agriculture.
This will further allow exchange of experience and technology and also the step that will allow each other to learn approaches for business growth and create more trade opportunities.