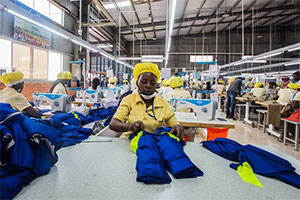 Posted on :Thursday , 12th December 2019
The 39th Council which was chaired by Rwanda's Minister of State for Foreign Affairs, Regional Cooperation and East African Community Affairs, Amb. Olivier Nduhungirehe, was attended by line Ministers from all the EAC Partner States and EAC Executives.
EAC Council of Ministers has approved the Final Draft Cotton, Textiles and Apparels (CTA) Strategy and its Implementation Roadmap.
The strategy whose vision is to have "An integrated and globally competitive cotton, textiles and apparels industry," makes a critical analysis of the CTA sector along the following key levels of the value chain: Cotton Seed (Production); Seed Cotton (Ginning); Cotton lint (Spinning); Yarn Weaving/Knitting/Printing/Dyeing/Finishing), and; Fabrics (Garments/Apparels/Fabrication/Manufacturing) level.
The Council further approved the Final Draft Leather and Leather Products Sector Strategy and its Implementation Roadmap.
The Council which met at the EAC Headquarters in Arusha, Tanzania, further directed EAC Partner States to give priority to the implementation of the (CTA) and the Leather Products Sector Strategy.
The EAC Strategy and Implementation Roadmap for Leather, Leather Products and Footwear Sector is a response to directive by the 19th Summit of EAC Heads of State held in 2018 concerning the promotion of the cotton, textile, apparel and leather industries in the region, with a view to making the region more competitive and creating jobs.
On investment promotion within the region, the Council approved the Draft EAC Export Promotion Strategy 2020 – 2025 for implementation.
The EPS 2020-2025 contains the following strategic interventions: Stimulate exports through acquired market intelligence for enterprises and improved visibility on international markets; Improve market access and conditions for EAC Export; Strengthen export competitiveness through interventions like improved access to finance and technology for enterprises, in particular SMEs, and; Strengthen the trade support institutions and partnerships.
The Council directed the Sectoral Council on Agriculture and Food Security to develop a strategy to boost the production of cotton in the region.