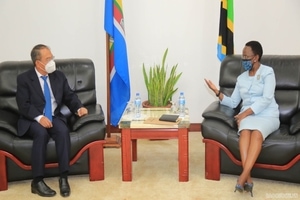 Posted on :Wednesday , 25th August 2021
At a meeting in Dar es Salaam, Tanzanian Foreign Minister Liberata Mulamula and Vietnamese Ambassador to Tanzania Nguyen Nam Tien promised to continue boosting commercial and investment relations between the two nations.
Ambassador Tien, who made a courtesy call to Tanzania's Foreign Minister, congratulated Tanzania on its election as Vice President of the United Nations General Assembly's 76th session in June of this year.
He stated that Vietnam is eager to share its expertise in national development, economic transformation, poverty reduction, and living standard improvement with Tanzania.
Trace-investment, according to the envoy, is a bright spot in bilateral ties, with Vietnam recently being Tanzania's largest importer of raw cashew nuts. He praised Viettel Tanzania (Halotel) for being a trailblazer in bringing mobile phone and internet networks to rural parts of the African country, therefore providing employment and revenue for local inhabitants and meeting its tax obligations to the Tanzanian government.
Ambassador Tien suggested that the two nations continue to communicate information through the channels of the State, party, and legislative body in order to strengthen mutual political trust and development support.
He emphasized that there is significant potential for bilateral engagement, despite the fact that bilateral trade turnover in 2020 was just $300 million USD, compared to Vietnam's total international trade of 545 billion USD. He requested that the Tanzanian government make it easier for Viettel Tanzania to operate and support Vietnamese companies seeking for commercial possibilities in Tanzania.
Minister Mulamula praised the efforts of Viettel Tanzania and urged Vietnamese companies to participate in cashew nut processing in Tanzania.
He expressed support for the Vietnamese Ambassador's ideas and stated that the government will continue to help Vietnam through multilateral channels.