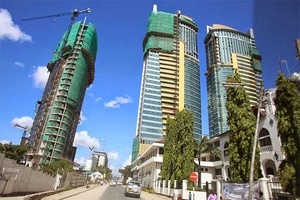 Posted on :Monday , 13th December 2021
In order to expand ties and explore existing potentials between the two nations, Poland has identified areas where its companies are interested in investing in Tanzania.
Krzysztof Buzalski, Poland's ambassador to Tanzania, recently stated that Polish companies were attentively examining investment potential on the Tanzanian market in fields such as agriculture, blue economy, mining, tourism, and Information and Communications Technology (ICT).
However, he stated that there is still a paucity of information on the two countries' potential for cooperation.
Tanzania and Poland, in comparison to other African countries, still require considerable trade marketing, such as trade fairs and coordinated presentations.
"In terms of trade and business potential, Tanzania needs greater promotion in Poland," Mr Buzalski said in an interview.
"The establishment of a Tanzanian diplomatic post in Warsaw will undoubtedly contribute to the growth of interest in Tanzania, its market potential, and tourist attractions among Polish businesses, organisations, and Poles in general," he said.
According to the envoy, a group of Polish companies visited Dar es Salaam in June 2021 and discussed business potential with government officials and local private companies. "Another sector we are observing in the developing bilateral collaboration is the education sector," he added, adding that more Tanzanians were interested in studying in Polish universities and higher technical institutions.
"Since a result, this will eventually create entirely new relationships between the two countries, as graduates may wish to participate in other activities that unite us, such as trade or culture."
The government and a coalition of Polish enterprises are currently discussing the largest project by a Polish company, which will be in the water management industry.
Mr. Buzalski stated that the Polish company seeks to deliver long-term and sustainable solutions because of the importance of water supply and management to Tanzania's development.
"We believe that our experience in developing urban water in Poland, as well as our technologies in that field, can address some of the issues that that sector has in Tanzania, particularly in large cities," he said.
Nonetheless, he stated that in order to reach these goals, additional infrastructure and an enabling environment for foreign investors are required, since this will undoubtedly persuade more Polish companies to invest in Tanzania.
Mr. Lukasz Grabowski, deputy director of the Export Center of the Polish Investment and Trade Agency (PAIH), said during a recent visit to Poland that the two nations may continue to open up bilaterally as Polish companies seek new markets in Africa.
He emphasised the significance of giving bilateral cooperation in agriculture production chains, healthcare, nursery, hospitals, elder care facilities, schools, and building in general, as well as IT, Fintech, cashless payments, and ICT solutions, a lot of energy.
"Polish enterprises would be very interested in expanding sea ports, as we have a strong legacy of maritime economy, fishing, and shipbuilding, and the country is seen as one of the most promising builders of yachts and luxury boats," he said.
PAIH is the first point of contact for Polish companies interested in expanding internationally, and the agency assists in overcoming administrative and legal procedures related to specific projects, as well as developing legal solutions, finding a suitable location, and finding trustworthy partners and suppliers. Other industries that the agency recommends to firms, according to Mr. Grabowski, include renewables such as solar, hydropower, and wind, all of which have potential for Africa given the continuing climate debate.
"Market opportunities and what Polish companies want reflect the situation of our economy," he recently noted. "For the time being, given the state of our economy, we continue to encourage our companies to make greater investments," he added.
According to him, Polish enterprises were first and foremost focused on European Union markets due to their proximity, the fact that they share the same culture, and the fact that transportation costs and risks were low.
He added that there was also some tariff relief, but that over 18,000 Polish exporters' eyes have opened wider in search of new locations to invest in over time.
"When we evaluate the 2030 and/or 2050 strategies, we consider the economies of Africa, Southeast Asia, the Middle East, and both Americas," Mr Grabowski explained.
The envoy went on to say that on November 11, 2021, Poland will commemorate its independence from Russia, Prussia, and Austria, which it earned in 1918 after 123 years of partition by Russia, Prussia, and Austria. Poland is also a European Union member (EU).