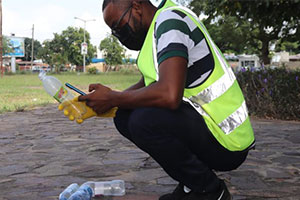 Posted on :Wednesday , 28th July 2021
Through data cataloguing, a new software aims to improve the collecting of single-use plastic in East Africa. The programme, dubbed 'Wastebase,' was released by the business .
Thanks to Wastebase, single-use plastic management in Tanzania, and few other coutries will now be data-driven. Unwaste.io, a startup created in 2020 by software programmers Cameron Smith (located in Maputo, Mozambique) and Martin Pllu, has just launched the app (based in Edinburgh, UK).
Wastebase is a Google Play Store app that is supposed to increase the collection of non-recyclable plastic garbage in the East African sub-region. "Waste collectors can use their smartphones to sort and scan plastic bottles by barcode. Each product's data is immediately posted to the digital platform.Each product's data is immediately posted to the digital platform. According to unwaste.io, "data partners (trained volunteers from Wastebase partner organisations) link each product to brand, ownership, and distribution information." The data gathered by the Wastebase application during audits can be reorganised as needed by African NGOs and activists throughout time, and then visualised in the implementation of regional and national plastic waste management schemes.
To ensure the efficiency of Wastebase in East Africa, unwaste.io collaborates with a number of environmental organisations. The Repensar Environmental Education Cooperative in Maputo, Mozambique, the Centre for Zero Waste and Development in Zambia, and Nipe Fagio in Dar es Salaam, Tanzania, are among these organisations. In a 2.5-hour session, the Repensar crew was able to collect, sort, and record over 2,800 bottles using the Wastebase programme.
Wastebase will aim to increase awareness among plastics makers about the harmful effects of their waste products on ecosystems in addition to collecting data.