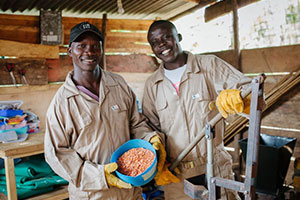 Posted on :Tuesday , 3rd May 2022
As the world celebrated Recycling Day, more and more plastic trash is being redirected from landfills and into a circular economy that helps African countries generate employment and entrepreneurship.
Diana Sibanda, Group Head of Sustainability at Coca-Cola Beverages Africa (CCBA), said the firm was working on more environmentally friendly ways to manufacture, distribute, and sell its goods.
In a statement, she said, "We leverage our industry leadership to be part of the answer to promote positive change in the globe and to build a more sustainable future for our planet."
In Tanzania, CCBA, in partnership with its recycling partner Sunda Chemical Fiber, has recycled more polyethylene terephthalate (PET) than it has manufactured over the last two years, attaining a recycling rate of 113%.
Food and beverage packaging is an important element of modern living, since it helps to assure food safety and prevent waste. However, the globe faces a packaging problem that demands a global solution.
As part of its responsibility to help address this issue, CCBA and The Coca-Cola Company have set ambitious goals to collect a bottle or can for every bottle or can produced by 2030, use 50% recycled content in all packaging by the same year, and make 25% of its packaging reusable by the same year, with all packaging being 100% recyclable by 2025.
To succeed, the programme, dubbed "World Without Waste," relies on collaboration with customers, consumer communities, industry, and governments.
The effort to clear Sprite PET in six markets, which makes it more easier to recycle and has better value as a recyclable material, is one of many initiatives occurring across CCBA's territory.
Since its beginning, the PETCO model, which is built on the idea of Extended Producer Responsibility, has been expanded to three additional markets, with aspirations to expand to a total of eight markets.