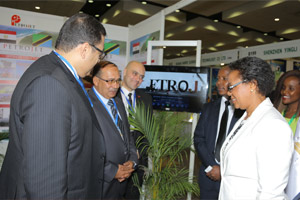 Posted on :Tuesday , 13th June 2017
Tanzania's upstream oil and gas sector is currently enjoying a boom following major discoveries of natural gas by Statoil, Ophir Energy and BG Group. These discoveries mean that in 2016 Tanzania's total estimated natural gas reserves quadrupled from 10 trillion to 40 trillion cubic feet. This upward trend has been welcomed by the best global Oil and Gas players, as they ready themselves for the return of Africa's premier and most trusted Mega Oil and Gas Exhibition.
From August 16th – 18th Expo Group will bring to you the 03rd Oil and Gas Tanzania 2017 where more than 100 exhibitors from 22 countries will showcase their latest wares to thousands of trade buyers and decision makers from throughout the Middle East, Africa, and further afield.
The 3 day event will take place at The Mlimani Conference Center, and will arrive with the biggest aftermarket brands on-board, spread over 15 product categories, Cranes and Winches, Drilling, Lifting &Well Completion Equipment, Floating and refining equipment and services to name a few.
With more than 100 exhibitors combined, Drilling, Lifting &Well Completion Equipment, Floating and refining equipment and services comprise the largest portion of Oil and Gas Tanzania, and features global stalwarts such as The Chemie Tech Group-U.A.E, Ndt Global- Germany, Red Sea Housing- Egypt to name a few.
James Mataragio, Managing Director of the Tanzania Petroleum Development Corporation (TPDC) discusses the restructuring of the local oil and gas market and unveils the company's long-term plans.
"I hope that international companies will realize the real potential of Tanzania for both oil and gas. We have, to date, barely explored half of the country, yet from what we have witnessed so far, the potential is absolutely enormous," Mataragio said.
Jamidu Katima, Chairman of the Tanzania Energy, Water and Utilities Regulatory Authority (EWURA), who speaks about the organization's restructured role in the country's oil wealth.
"We see ourselves as the guardians of Tanzania's natural resources and of ensuring that the country's petroleum wealth is used for the benefit of the entire population and the national economy," Katima said.
Salim Bashir, Partner at KPMG, assesses the local market's comparative competitiveness, the importance of infrastructure growth, and Tanzania's potential as an oil and gas producer.
"Tanzania certainly needs additional FDI to continue to explore the larger part of the country which remains unexplored and to monetize existing gas finds… everything will now hinge on how attractive the country can make itself relative to the rest of the region," Bashir said.

The 03rd Oil and Gas Tanzania 2017 is the place to meet and do business with leading giants in the oil and gas industry and practitioners from around the world. It is an event you cannot miss!
This is the time for a new paradigm and real actions to revive Tanzania's oil and gas industry.