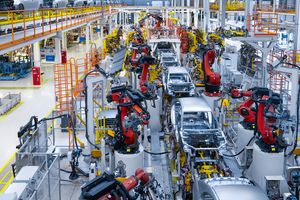 Posted on :Monday , 28th March 2022
A historic memorandum of understanding (MoU) has been signed by twelve automobile organisations to accelerate the growth of the African automotive sector.
A Memorandum of Understanding (MoU) was signed digitally between 12 Automotive Associations as part of the EU – Africa Business Forum 2022 with the goal of boosting the growth of the African Automotive Industry.
While the automotive sector is critical to Africa's industrialization, it is often associated with a number of challenges. However, intra-African trade can be strengthened and diversified by developing a Pan African Auto Pact, which aims to increase the African new vehicle market from one to five million units while also connecting African regions for the common good.
The launch of the AfCFTA – African Continental Free Trade Area – was one of the catalysts for a joint initiative to develop an MoU between European and African Automotive Associations, which was initially driven by the AAAM, VDA, and Afrika-Verein and has grown into a cooperation between 12 Associations that signed the MoU, which has the support of both the African Union and the European Union.
The MoU supports more discussion, which will contribute to the formulation of a cooperative plan to improve Africa's automotive sector through integration into global and European value chains, resulting in quality jobs.
Following the signing of the Memorandum of Understanding, Dave Coffey, CEO of AAAM - African Association of Automotive Manufacturers, stated, "The trade and investment climate in Africa can only be improved jointly. We are sure that Africa has enormous potential to establish a strong automotive sector that will provide long-term jobs. The fact that African and European groups have agreed on crucial areas to further grow the continent's sector is a significant milestone. Now it is up to government officials to back this up by setting the necessary conditions for the industry to thrive and prosper."
The AAAM, the German-African Business Association, the German Association of the Automotive Industry, the Kenya Association of Manufacturers, the Tunisian Automotive Association, the National Association of Automotive Component and Allied Manufacturers in South Africa, the National Association of Automobile Manufacturers of South Africa, the European Association of Automotive Suppliers, the European Business Council for Africa, and the European Automobile Manufacturers' Association have all signed the MoU.