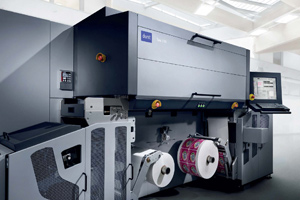 Posted on :Wednesday , 29th May 2019
Pyrotec PackMedia invested in an eight-color digital label press from Durst, a manufacturer of digital printing and manufacturing technology, bringing the Durst Tau 330 RSC into the African market for the first time. This latest addition of machinery opens up a new digital future with Durst technology and will play an important role in the latest digital label printing business venture of the company.
Timothy Beattie,the general manager of Pyrotec PackMedia says, "We're entering the self-adhesive digital label market with the best technology that money can buy." He has been a part of the Pyrotec group in Cape Town that has more than 50 years experience in the industry. He also goes on to add, "For this venture, apart from investing in state-of-the-art equipment, we aim to leverage our reputation for solid customer service and to continue to work hard to maintain this reputation."
The digital label press was selected after three years of careful consideration to support the key production goals of minimizing turnaround times and providing ever shorter run lengths. As Timothy Beatie talks about this latest acquisition, he says ,'We explored a variety of options and finally identified the best solution to meet our needs, Durst offers state-of - the-art technology. Comparing print resolution (1200x1200dpi), print speed (78m / min) and printhead design (continuous ink circulation) between Durst and competitive digital label presses, there were compelling reasons for our choice.'
Durst also offers eight colors on its UV inkjet press, reaching between 95% and 98% of the Pantone color range, and when the same substratum is used for consecutive jobs, set-up time and material waste are close to zero
Timothy Beattie also brought out the fact that out that there is little doubt that when it comes to digital label printing, UV inkjet is the fastest growing technology, with industry research showing that liquid and dry toner technologies are losing ground. He also liked the fact that there were no charges for clicks and no limitations on repeating run lengths.
Pyrotec expects the high-speed label press Durst Tau 330 RSC to improve efficiencies, open up new business opportunities and further improve its product and service offerings.'We will also be able to enter completely new markets using the latest digital technology, as we can print on a variety of materials including unsupported film,' he said.
This purchase also links well with the customer-centricity vision of Pyrotec.Beattie beleives it will help the company stay close to their customers and offer them the best possible service and turnaround times as well as beautiful, consistent print quality.
ABG Digicon Series 3 finishing machine was also included in the sale, led by Wayne Barker and Pierre Driver at Industrial Inkjet Specialists (IIS), Durst's distribution partner across South Africa and neighboring territories.