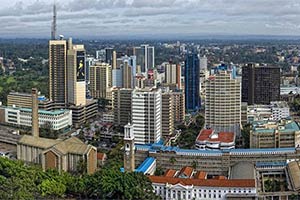 Posted on :Tuesday , 22nd October 2019
According to the Trade20 Index report released by Standard Chartered Bank, the markets impressive potential for trade growth suggests that the government's 'Big Four' development initiative - focusing on boosting manufacturing activities, achieving universal health coverage, improving food security and supporting the construction of affordable housing - is driving Kenya's increased trade growth potential.
Kenya has been ranked position 3 in the top 20 markets with the greatest potential for future trade growth.
Standard Chartered Kenya CEO, Kariuki Ngari, said "Kenya's trade readiness score is particularly high, this is cause of infrastructure and ease of doing business improvements that far surpass most other African nations in our index. The administration has been successful in attracting external investment for substantial infrastructure development, including renewable energy projects. Improvements in Kenya's ease of doing business ranking over the last few years have been driven by governmental reforms, including in the areas of starting a business, access to electricity, registering property and protecting minority investors."
According to the new research, Cote d'Ivoire is the market that has most speedily improved its trade growth potential over the past decade.
Kenya is integrating its position as the trading hub of East Africa, while Cote d'Ivoire is settling its position as a West African trading hub. Ghana also performs well in the index, placing just outside the top 10.
Cote d'Ivoire and Kenya have considerably improved their trade readiness, demonstrating that investments in infrastructure and business environment improvements are paying off.
Philip Panaino, Transaction Banking Head, West, Standard Chartered Bank, said "Home to some of the world's fastest-growing economies, Africa has the capability to become a much bigger player on the global trade stage. Already connected with the trading powers in Asia, specially China, through the Belt & Road Initiative, and with the launch of the African Continental Free Trade Area, we see huge growth opportunities for trade and investment in the years ahead. Moreover, the growing young, digitally-savvy population and an increasing female workforce will aid in the continent's economic transformation."
Trade20 Index examines 12 metrics across 66 global markets - the major global economies plus the major economies in each region - to reveal the 20 economies that are most speedily improving their potential for trade growth.