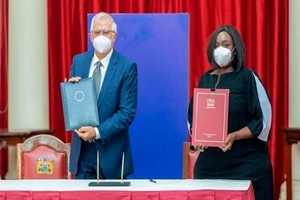 Posted on :Friday , 11th February 2022
Kenya and the European Union have begun crucial negotiations to move their relationship beyond aid and toward long-term peace and development.
Kenya's Cabinet Secretary for Foreign Affairs signed a joint declaration in Nairobi with visiting EU top diplomat Josep Borrell Fontelles to formally begin discussions on a Strategic Dialogue, a guiding text that may steer relations to "shared issues."
Mr. Fontelles, the EU's High Representative for Foreign Affairs and Security Policy, came in Nairobi just days before the EU hosts African delegates for the EU-AU Summit in Brussels. While the EU aims to connect with every country on the continent, Mr Fontelles said the bloc will start with 'like-minded countries.'
"The European Union and Kenya have had a long-standing partnership." However, we are no longer a development aid donor. Fontelles said at a joint press conference in Nairobi, "We are a strategic partner."