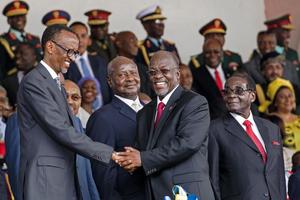 Posted on :Tuesday , 19th September 2017
Tanzania and Rwanda's private sector bodies have reached a decision to renew their commitment to eliminate Non-Tariff Barriers (NTBs) between the two nations. NTBs are known to act as difficult barriers that make the export and import of goods costly and troublesome to businesses. This issue to centre-stage at the one day peer to peer meeting held between the two nations in Kigali.
"Unlike politicians, business people don't have term limits or constituencies. All that is important is a good doing business environment; and that is what we all desire. We must continuously corporate, or regularly share views on how best we can corporate to further make things better," Stephen Ruzibiza, the PSF chief executive, said.
The Tanzania Private Sector Foundation (TPSF) sent a delegation of 15 officials to discuss a wide array of topics including identifying policy and regulatory restrictions that affect free movement of goods and services and also to find possible solutions to these prevailing issues.
The meeting is expected to spark more engagement between Tanzania and Rwanda with regard to provate sector engagement.
The hardships involved in registering a clearing and forwarding company (C&F) in Rwanda was discussed at great length as were the work permit issues in Tanzania, which limits scope to conduct business in the country.
Shedding light on how difficult it is to move goods across the border, Badal Gurung, the logistics manager of Mount Meru Petroleum-Rwanda, first pointed to the problem of depot closing time as well as issues of documentation in Tanzania which causes problems to their business.
Participants from both ends however agreed to work diligently to push policy makers in their respective capitals to find solutions.
The objective of their bilateral engagements is to unravel the existing and future trade potential between Rwanda and Tanzania.
Robert Opirah, the Director-General for Trade and Investment in the Ministry of Trade, Industry and EAC Affairs, told the meeting that the two countries are significant trading partners with mutual interest to increase trade and cooperation through their joint membership of the EAC.
Tanzania is Rwanda's third largest trading partner – behind Uganda and Kenya – with total trade between the two countries accounting for 14 percent of Rwanda's trade with EAC said Opirah.
The recently launched Rusumo International bridge and a One-Stop-Border Post shows a lot of potential in their partnership.