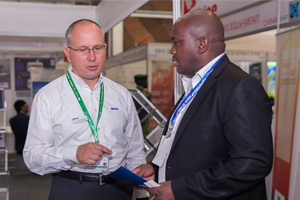 Posted on :Monday , 14th August 2017
TANZANIA has in recent years seen unprecedented growth in construction sector, with mushrooming new houses, multi-storey buildings, roads and bridges, the trend that has contributed to surging demand for the building materials, Increased government funding on infrastructure development in almost every financial year has acted as an incentive for continued inflows of investments in the construction industry so this upward trend has been welcomed by the best global construction equipment manufacturing players, as they ready themselves for the return of Africa's premier and most trusted building and construction tradeshow.
According to new reforms and budget allocations, The Ministry of Works, Transport and Communication has unveiled a massive 4.5trl/- budget, which among other things will cover flagship infrastructure development in the 2017/2018 fiscal year.
This means, the government will be spending almost 45 per cent of its budget as development expenditure in infrastructure.
However, the figure represents a drop of almost 400bn/- compared to the 2016/2017 budget, in which 4.9trl/- was set aside for the same purpose.
The Minister, Prof Makame Mbarawa, said "out of the amount, the transport sector will take a huge chunk, totalling 2.5trl/-, while 1.9trl/- is for works sector and the remaining 18bn/- is reserved for communication sector.
Among areas of priority, is 900bn/- for the construction of Standard Gauge Railway (SGR) from Morogoro to Dodoma. In the current financial year, the government has allocated 1tril/- to cover the Dar es Salaam -Morogoro patch.
A market full of opportunity will be underlined by The 20th BuildExpo 2017, where more than 200 exhibitors from 30 countries will showcase their latest wares to thousands of trade buyers and decision makers from throughout the Middle East, Africa, and further afield.
Taking place from August 10 to 12 at The Mlimani Conference Center, the annual three-day event will arrive with the biggest aftermarket brands on-board, spread over 15 product categories, to name a few Building Material; Mining; Lighting; Glass; Steel and Aluminum; Hardware and Tools; Machinery and Equip etc…
With more than 200 exhibitors combined, Building Material, and Mining comprise the largest portion of BuildExpo Tanzania, and features global stalwarts such as Knauf Gypsum Tanzania ltd, AGT Turkey, Shree Mahavir Metalcraft Pvt. Ltd India to name a few.
David Rovira, Sales Manager of SenseFly, Switzerland said "BUILDEXPO provides us with an international platform for our products. With its strong focus on networking, it enables us to meet up with the key players in our industry in a very short space of time and hence make valuable new business contacts. Plus we can do this all under one roof - a major advantage.
Mohsen Matareed Business Development Manager - KIRBY BUILDING SYSTEMS, KUWAIT said "Last year was the first time at BUILDEXPO. It was recommended to us by a colleague. It is East Africa's biggest building & construction tradeshow, and so it's very important for us to have a presence here. What we like about BUILDEXPO, apart from its size, is the immense variety it offers visitors and, of course, us as exhibitors. It is a great opportunity to meet potential new customers and share ideas and insights. It's the first time we've exhibited here, and we hope that we will be back in 2017
Anuar Abishev Sales Associate - IGT FZC, UAE said "We are very happy to be exhibiting at BUILDEXPO because of the opportunities it offers for making new business contacts and promoting awareness of our technology offering. The fair is an excellent fit for us because it has a strong research focus. We are therefore very satisfied with the fair. We have encountered a lot of visitors and potential customers who have shown interest in our products.
Build Talk 17 Africa will consist of a series of seminars, presentations, and workshops about key issues and regulations that affect the construction aftermarket, and the African Buyer-Seller Meet, connecting suppliers with buyers from the world's second largest continent.