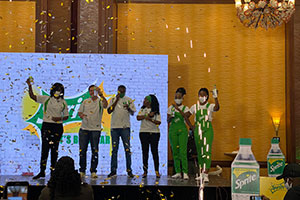 Posted on :Wednesday , 28th July 2021
Nairobi — Coca-Cola Kenya has launched a new appearance for Sprite, the country's most popular soft drink.
(polyethylene terephthalate) plastic container, marking a historic departure from the green-colored plastic bottle that has served as the brand's identity since its inception in 1960.
This change means that more Sprite bottles can be collected, recycled, and reused to create new items, in line with Coca-World Cola's Without Waste vision, which aims to collect and recycle the equivalent of every bottle or can sold by 2030, as well as use 50 percent recycled content in all of its packaging.
"Our Kenyans can now enjoy the pleasant flavour of their favourite sparkling lemon-lime drink while knowing that their bottle can simply be recycled and reused. This is a positive in our combined efforts to expand our business while also contributing to more environmentally friendly practises "During the introduction in Nairobi, Xavi Selga, Managing Director, Coca-Cola Beverages Africa (CCBA) - Kenya, remarked.
Clear PET is more valuable than green PET since it can be recycled and re-used to manufacture a wider range of new items, such as pillow and duvet inners and new bottles.
After South Africa, Nigeria, and Ethiopia, Kenya is the fourth African market where Coca-Cola has introduced the Sprite clear PET.
"The transition from green to clear PET is a huge step forward in advancing our environmental mission, which is an important part of our business. We recognise that our vision for a World Without Waste is lofty and difficult to achieve, but we are committed to the cause with our partners.
This decision also enables us to collaborate with recycling industry partners, as well as garbage collectors and aggregators, to maximise the value of our recyclable plastics "Debra Mallowah, Vice President of the Coca-Cola East and Central Africa Franchise, stated this.
Coca-Cola's "The World Without Waste" stratergy demonstrates the company's commitment to operating in a sustainable manner, which includes solving the packaging waste problem. Furthermore, transparent PET plastic contributes to economic empowerment by increasing the revenue of trash reclaimers in Kenya who make a profession collecting and selling packaging debris," Mallowah remarked.
PETCO Kenya (PET Recycling Company Ltd), an industry-led extended producer responsibility PET recycling scheme comprising of 16 industry companies from various sectors, including Coca-Cola as one of its members.
PETCO aims to bring together programmes to collect, sort, and recycle plastic bottles, with a broader focus on the long-term management of PET material. This is done in collaboration with recyclers who turn discarded PET into new items.