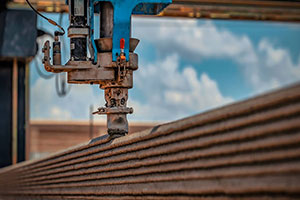 Posted on :Thursday , 30th December 2021
In Kilifi town, north of Mombasa, Kenya, 14Trees, a joint venture between Holcim and CDC Group, will build Africa's largest 3D-printed affordable housing project.
The revolutionary 3D printing technology helped the 52-house Mvule Gardens project come to life in record time. 14Trees created the world's first 3D printed school in Malawi's Salima district earlier this year.
The company's first 3D-printed prototype house in Lilongwe, Malawi, was produced with precision in less than 12 hours, compared to the four days it would take to build a home using traditional methods.
The new facility in Kenya exemplifies 14Trees' long-term strategy to foster African construction innovation and advance 3D printing technology across the continent.
Holcim's patented ink, TectorPrint, enabled this idea by giving the walls structural function to bear the building's load. When compared to existing techniques, the new methodology cuts the environmental footprint by more than half and lowers CO2 emissions typical of traditional cement production methods.
Furthermore, 14Trees discovers natural fibre components to reinforce best practises in 3D printing for construction in Africa and produces locally based skilled jobs in areas such as sustainability and 3D technology operations, among other things.
The new 52-house community will be part of Kenya's regenerative environment, the Green Heart of Kenya, which serves as a model for inclusive and climate-resilient towns. Mvule Gardens will be built by 14Trees in the first quarter of 2022.
"We are pleased to be developing one of the world's largest 3D-printed affordable housing projects in Kenya," said Holcim CEO Jan Jenisch. By 2030, nearly three billion people will require affordable housing due to today's growing urbanisation. This problem is most acute in Africa, where nations like Kenya are already facing a two-million-house shortfall. We can close the infrastructural gap at scale and raise everyone's living standards by adopting 3D printing."
The idea is a valuable, quick, and cost-effective solution to Sub-Saharan Africa's housing shortage, which is expected to be 50 million units.
Tenbite Ermias, head of Africa and Africa managing director, CDC Group, said of 14Trees' ability to build safe, well-located, and reliable homes for communities across Africa, "14 Trees is pioneering the use of cutting-edge technology to address one of Africa's most pressing development needs (affordable housing) to create life-changing infrastructure for whole communities."