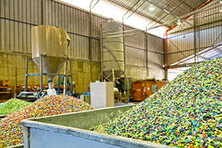 Posted on :Tuesday , 4th October 2022
The Kenya Plastics Pact has presented the nation's new plan for creating a circular economy for plastics by 2030. The roadmap includes a number of important components, such as innovation and industry dialogue.
Kenya is implementing a coordinated action plan to hasten the growth of the circular economy for plastics. The Kenya Plastics Pact (KPP), which was established in March 2022, stakeholders just approved and published the agreement. The project seeks to secure funds for Kenya's efforts to collect, reuse, and recycle plastic trash. It brings together a number of waste value chain participants, including the Nairobi Waste Collectors Association, the Kenya Extended Producer Responsibility Organization, and the Kenya PET Recycling Company (KEPRO).
The Kenya Plastics Pact's ultimate objective is to make all Kenyan plastic packaging reusable by 2030. Eliminating "unnecessary or harmful" single-use plastic packaging will thus be the first step. Additionally, business plans for product redesign will be created. According to Carole Kariuki, CEO of the Kenya Private Sector Alliance, "integrating circularity into the plastics value chain will boost sustainable economic development and resilience" (KEPSA).
In the collecting and recycling of plastic, this will aid in job creation. According to the National Environment Management Authority (NEMA), the nation currently produces an average of 480 tonnes of plastic every day.
Through new regulations, producers of plastic packaging will also be held accountable. The "Extended Producer Responsibility (EPR) Regulations" would limit the quantity of material going to final disposal, promote recycling, and increase resource efficiency as outlined in the Sustainable Waste Management Act, which was passed in July 2022. However, while required EPR alone does not provide a collaborative platform to unlock innovation and systemic solutions for a circular economy, it is a necessary statutory framework to progress towards one, according to Kenyan officials.