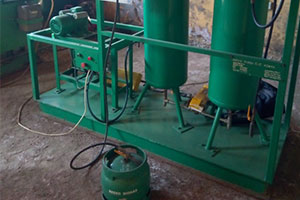 Posted on :Thursday , 3rd November 2022
Kenya is establishing regulations to facilitate the commercialization of biogas, a move that will provide consumers with affordable energy in response to the high cost of LPG and generate income for producers.

The only thing left from the commercialization of the methane gas created from plant matter and animal waste, according to the Kenya Bureau of Standards (KBS), is a set of regulations for the packaging of biogas.

According to KBS Principal Standards Officer Alex Mboa, the organisation is providing the solution to meet the market's demand, which will result in the commercialization of less expensive biogas in the nation.
"At the moment, the market requires biogas packaging criteria, which we will deliver in accordance with demand. The market must adopt, utilise, and put the standards into practice in order for the firms to grow," according to Mboa.

The official said that a work plan had previously been prepared in 2015 and that the organisation merely needed to assess the current standards in order to find and fill any holes.

The only thing stopping the commercialization of biogas energy in the nation, according to Francis Xavier Ochieng, thematic head of the institute of energy and environmental technology at Jomo Kenyatta University of Agriculture and Technology (Jkuat), is standards. Ochieng, who oversaw studies on the state of biogas in Kenya last year, claimed that the fuel is less expensive than LPG, whose cost varies according to the price of the crude from which it is produced.

"Biogas is not only more affordable but also a clean source of energy; now, we want to handle the commercialization part of it, which can only be accomplished once we have standards in place," said Ochieng. Ochieng stated that the strategy is to package biogas in giant tanks that will be installed in apartments rather than smaller ones because doing so would be expensive. From there, metered pipes would be used to transport the biogas to each individual home.

The containerization of biogas hasn't really taken off, according to Zachariah Munga, country project coordinator for the United Nations Industrial Development Organization (UNIDO), because of the high costs involved. He added that only a handful of nations worldwide have been able to do this at a lower cost.