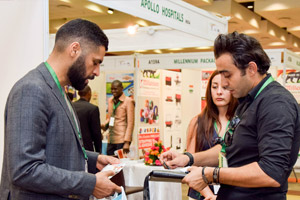 Posted on :Tuesday , 13th June 2017
In its endeavor to accommodate to the current and future needs of the East Africa's citizens and develop the East Africa's health care sector in terms of quality, standards and the level of services provided, the Tanzanian Government is financing a lot of different health care development projects with its ever so increasing budget allocation towards the same.
In this context, Tanzanias MedExpo Exhibition 2017 will kick off its twentieth edition on August 22-24, 2017 at The Mlimani Conference Center with participation from over 15 countries including Egypt, China, Yemen, Italy, India and United Arab Emirates.
It is supported by East African Chamber of Commerce Industry and Agriculture. The event's strategic partners are Tanzania Private Sector Foundation, Emirates, Confederation of Tanzania Industries, and Tanzania Dental Association.
Gathering medical professionals, government officials and health care service providers, the MedExpo is considered the largest health event in the Nation.
The Event will consist of over 100 Exhibitors who will showcase their latest wares to thousands of trade buyers and decision makers from throughout the Middle East, Africa, and further afield.
With the biggest aftermarket brands on-board, spread over 15 product categories, Hospital Supplies, Dental, Optical, Medical equipment to name a few
With more than 100 exhibitors combined, Hospital Supplies and Dental comprise the largest portion of MedExpo Tanzania, and features global stalwarts such as BCPP (Borshcahivskiy CPP)-Ukraine, LAPHARM GmbH + ONKOKONTOR GmbH- Germany, Chison Medical Imaging Co., ltd- China.
Gregory Dajer Director, Mtts - Medical Technology Transfer and Services ltd., Vietnam had a few words to say about last year's MedExpo "With its focus on the right place, MEDEXPO is the most important event for bringing together the users and the manufacturers. We are very pleased to have participated here."
Raghu Raj KurupRegional Sales Manager - Falcon Technologies International L.L.C, UAE said "For us being at MEDEXPO is a must, as it is the most important Medical and Healthcare fair in East Africa and it has resulted in a good opportunity for networking"
Corina Zagaievschi International Business Development Coordinator - Bilfinger Ltm Industries Sas, France said "MEDEXPO will be a fixed date in the diary each year. What´s so important about it is that it is very well received by the trade visitors, and because the leads you get here are of a high quality. Many of them turned into real orders and new customers."
HEALTH TALK AFRICA 2017 is back and is the official conference at Africa's prime International Medical & Healthcare Trade Exhibition - MEDEXPO AFRICA. Health Talk Africa is co-organized together with Tanzania Private Sector Foundation (TPSF, Tanzania). MEDEXPO AFRICA. Health Talk Africa is a leading force in delivering a podium for the Medical & Dental industry enthusiasts to meet and share information on the challenges the industry is facing and to discuss solutions to access affordable, reliable, clean & effective health provisions in Africa.
HEALTH TALK AFRICA 2017 serves as a catalyst for the development of a sustainable and competitive medical sector in Africa. Africa's medical requirements are enormous and the demand is growing but resources are limited both in physical and financial terms. Africa is attracting significant attention from major overseas manufacturers, NGO's & exporters. Given the phenomenal prospects available in this sector, Health Talk will provide an opportunity to network; collaborate with peers, innovators, thought leaders and policy makers.
The effective communication and the business opportunities discussed during MedExpo'17 between decision makers, government authorities and investors initiates new business deals and agreements that are positively reflected on advancing the health care industry and outlining its future.