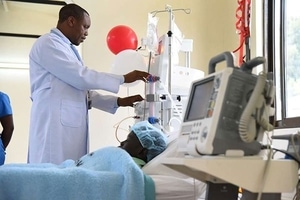 Posted on :Friday , 22nd October 2021
As demand for medical services grows as a result of the Covid-19 pandemic, Kenya's healthcare system is drawing investment from Australia.
According to Luke Williams, Australia's High Commissioner to Kenya, the two nations are discussing collaboration in a variety of sectors, including medical staff skill development, universal healthcare, including cheap healthcare insurance, and research.
"Australian healthcare companies were interested in partnering with institutions like the Nairobi Hospital to offer their products and services," Mr Williams said during a recent visit to the Nairobi Hospital, where they discussed potential areas of collaboration in the delivery of healthcare services.
This comes as the hospital prepares to expand its bed capacity as well as upgrade its intensive care unit and high dependency unit for the management of Covid-19 patients.
"Our main goal is to provide high-quality, low-cost healthcare to all of our patients so that they may have a better medical experience. In addition, the hospital's brand is strengthening as a result of good interactions with stakeholders, the media, and the general public," stated Nairobi Hospital Chief Executive Officer James Nyamongo.