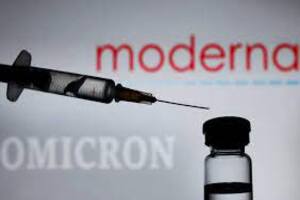 Posted on :Friday , 28th April 2023
A facility to provide Kenya and the African continent with access to manufactured mRNA vaccines, ensuring health security and advancing Moderna's commitments to global public health. Up to 500 million doses can be produced annually at the facility.
An agreement to establish an mRNA manufacturing facility in the Republic of Kenya has been finalised by Moderna, Inc. (NASDAQ: MRNA) and the Government of the Republic of Kenya. The company's first mRNA production facility in Africa will be here.
Moderna will construct a cutting-edge mRNA facility in Kenya in collaboration with the Kenyan government to manufacture up to 500 million doses of vaccines annually. The company anticipates that the new facility will make it possible to manufacture drug substances and drug products for Kenya and the African continent. Additionally, this facility will be equipped with a surge capacity to expand quickly and respond to public health emergencies both locally and globally.
According to Stophane Bancel, Chief Executive Officer of Moderna, "the completion of our agreement with the Government of the Republic of Kenya is a key pillar of our global public "We hope to bring mRNA innovation to the people of Africa in areas of high unmet need, such as acute respiratory infections and persistent infectious diseases", as well as persistent infectious diseases like HIV and outbreak threats like Zika and Ebola," This also shows how confident we are in Kenya's investment environment and how critical it is to use mRNA technology to strengthen healthcare security across Africa. We also appreciate Meg Whitman, the American ambassador to Kenya, and Samantha Power, who serves as the administrator of the United States Agency for International Development for their instrumental support of this project."
"We are overjoyed with this achievement because it demonstrates how hard we work as a government to maintain our economic model of facilitating investments that benefit not only Kenya, but the entire African continent. "My government is committed to supporting this investment as a critical signal to the investment community that Kenya is open for business," said President William Ruto.
"This investment creates momentum to meet the $10 billion annual target under the Government's manufacturing 20 by 30 vision, where we plan to increase manufacturing's contribution to GDP to 20% by 2030 from the current 7%," said Hon. Moses Kuria, Kenya's Cabinet Secretary for Investments, Trade, and Industry.
The goal of Kenya, the continent's most ambitious plan to attract investments as a catalyst for job creation, is to increase foreign direct investment levels from the current levels of $448 million annually to $10 billion annually. Moderna's investment demonstrates its continued dedication to global public health as well as its confidence in Kenya's business climate and willingness to support both foreign and domestic investment in the healthcare industry. Moderna will have Special Economic Zone (SEZ) status, demonstrating Kenya's growing emphasis on the SEZ programme as a crucial engine of economic development.
With the signing of this contract, Moderna agreed to build mRNA manufacturing facilities in Kenya, the US, Canada, Australia, and the UK, enhancing global health security. To hasten the development and commercialization of mRNA medicines, Moderna has spent more than ten years perfecting its mRNA platform. Rapid response to serious global epidemics, also known as Disease X, is uniquely suited for Moderna's mRNA platform's speed, scale, and flexibility.
By 2025, Moderna is committed to advancing a portfolio of 15 vaccine programmes that target neglected or emerging infectious diseases into clinical studies, as well as vaccines that address current diseases that have a significant impact on low- and middle-income countries and those that are designed to combat Disease X. The World Health Organization's priority pathogens and those identified by the Coalition for Epidemic Preparedness Innovations and Moderna as persistent global health threats, such as HIV, TB, and malaria, as well as neglected tropical diseases, will receive priority in Moderna's development efforts.