Posted on :Tuesday , 29th March 2022
Solar panels have been used to introduce a new technique aimed at increasing crop yield in Kenya.
After a year-long study partnership between the University of Sheffield, World Agroforestry, and Latia Agri-business Center, the agrivoltaics technology, which involves capturing energy from the sun twice through the use of solar panels, was inaugurated at Isinya, Kajiado County.. . .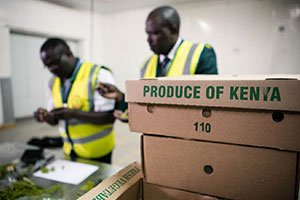 Posted on :Wednesday , 29th December 2021
Kenya's horticulture export revenues increased by 6.4 percent to Ksh 8.7 billion (US$77 million) in the 11 months to November 2021, owing to increased demand for Kenyan produce on the global market as export destinations continue to relax in Covid-19 stipulations.
Kenya earned Ksh145.4 billion (US$1.29 billion) for the period under review, up from Ksh136.7 billion (US$1.2 bil. . .