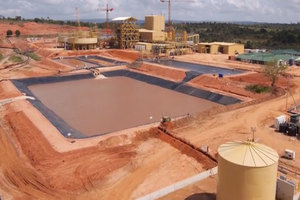 Posted on :Friday , 17th November 2017
The socio-economic status of residents in Kwale has transformed in less than five years since Kenya's largest mining project was initiated, says the Vision 2030 Delivery Board. The Kwale Project-run by Base Titanium Limited of Australia has so far created a total of 3,400 jobs. Out of 3400 jobs 96% of the jobs are held Kenyan locals. And for every direct job created at the mine, 4.3 jobs are getting supported in the wider economy. Kwale residents account for 64 percent of the total direct jobs created.
Speaking on the sidelines of the tour of Base Titanium Kwale mining sites, Vision 2030 Delivery Board Chairman, Dr. James Mwangi said "With a focus on prioritizing local employment and a significant community development programme, we see the mining industry creating numerous employment opportunities and helping alleviate poverty".
The number of residents of Kwale working for the company rose from 135 in February 2014 to 409 as at June 2017. Similarly, number of foreign workers has reduced by almost 50 percent from 63 in February 2014 to 32 as at June 2017.
Expatriates employed at the firm now constitute approximately 3 percent, as more priority is given to locals, representing two-thirds of the total workforce.
Base Titanium operations, as per an independent assessment by Ernst and Young showed support for 1,400 indirect jobs in the supply chain through purchase of goods and services in the country. An additional 1,360 jobs have been supported primarily by consumer spending due to direct and indirect employment.