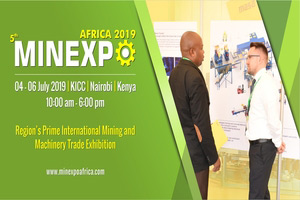 Posted on :Tuesday , 25th June 2019
04 - 06 July 2019 | Kenyatta International Convention Centre | Nairobi | Kenya
Dated: 10th June, 2019
After consecutive successes the 5th MINEXPO AFRICA is back from the 04th – 06th July 2019 at KICC, Nairobi in Kenya. Held concurrently with the 22nd Buildexpo 2019, the event shares the stage, opening up to greater number of visitors from a wide industry base. Africa's largest International Trade Exhibition brings together domestic and international companies in the market to the buyers from across the East Africa who are seeking to expand in the mining industry and to keep abreast of industry trends and developments.
Countries dominant this year are UAE, China, Turkey and South Africa with several leading international brands looking to build a solid foundation in the East African market. Tru-Trac Rollers (South Africa), Amer & Amma Motors Middle East Fze (Uae), Ugurmak (Turkey), Meka (Turkey), Jinshi Drilltech, Chaoyang Heavy Machinery, Hongchang, Emp Parts Co., Ltd and Liaoan Machinery Co., Ltd (China) are some of the market leaders in their respective industries.
Minexpo includes mining and drilling equipment and accessories of different capacities, Crushers, Drilling Equipments - Surface and Underground, Dumpers, Explosives, IT in Mines Planning, Materials Handling, Mineral Processing Plants and Equipments, Mine Safety Equipments, Mining Machinery & Technology, Mining Related Services, Rock Drilling Machines, Safety, Health & Environment, Weigh Bridges and more. The exhibition represents the latest achievements and developments of mining industry branches, innovative methods and advancements in mining machinery and technology. Visitors will find the latest and most innovative products and equipment in the industry at the highest rate of productivity.
The 5th edition of Minexpo will allow exhibitors to connect with the Eastern African market. This event will attract mining equipment distributers, equipment manufacturers and entrepreneurs, government and industry bodies promoting the sector as well as large companies engaged in the mining industry etc. This event has been planned to include the hardware equipment, spareparts and accessories needed in this industry.
Kenya is certainly one of the biggest markets in Africa, but the event also lays strong emphasis on attracting traders and importers from neighboring countries. According to the World Bank, infrastructure is the key to Africa's economic turnaround and will play an even greater role in the continent's continued development. Investment opportunities exist in mining stone for the construction and building industry, phosphates for agriculture, salt for domestic and chemical uses, iron ore for the iron and steel industry, kaolin for leather tanning and pharmaceuticals, and silica sand and trona for glass manufacture; exploration and development of mineral deposits including oil, gold, copper, cobalt sulphide and hematite iron.
Visit: http://minexpo.expogr.com/ for more information or contact:
Trevor Daniel
Media Manager
Minexpo ( East Africa )
Email: feedback@expogr.com
Int'l: +971 43050755 | Kenya: +254 792268513